When planning your van conversion the addition of an awning is something you'll definitely want to consider. It's a great way to add extra floor space to your van, as well as providing outdoor space for activities, shelter from the weather, storage or even an extra sleeping area for guests.
There are different types of awnings to consider, depending on whether you'll be staying at campsites and want something you can detach while you take your van out for the day, or whether you plan to wild camp a lot and just want a simple sun shade. The good news is though, unlike a roof vent fan or interior lighting, an awning is something you can add in as an afterthought, so it's never too late to install one.
We've compiled a breakdown of the different types of awnings, their advantages and disadvantages, and we've provided the best awnings currently available on the market.
Canopy Awnings
Canopy awnings are different to drive away awnings in that they are permanently attached to your van, making them a much more portable and lightweight option. They are extremely easy to set up, usually working as a manual roll out awning for your van, although some can even be deployed electronically. They offer basic protection from sunlight or rain although extra sides and rooms can be purchased separately to make them weatherproof, but even without these they create the illusion of having an extra space and make eating and cooking outdoors much more enjoyable.
It's important to note that there are two different types of canopy awning: roof-mounted ones and wall-mounted ones. Most of the time roof-mounted awnings attach to the van's roof rack or bars, so without these your best option would be a wall-mounted awning, however this will involve putting holes in the side of your van, so what kind you'll need depends largely on how well it will fit onto your camper van.
Our top pick
ARB 4401A Retractable awning– $305 on Amazon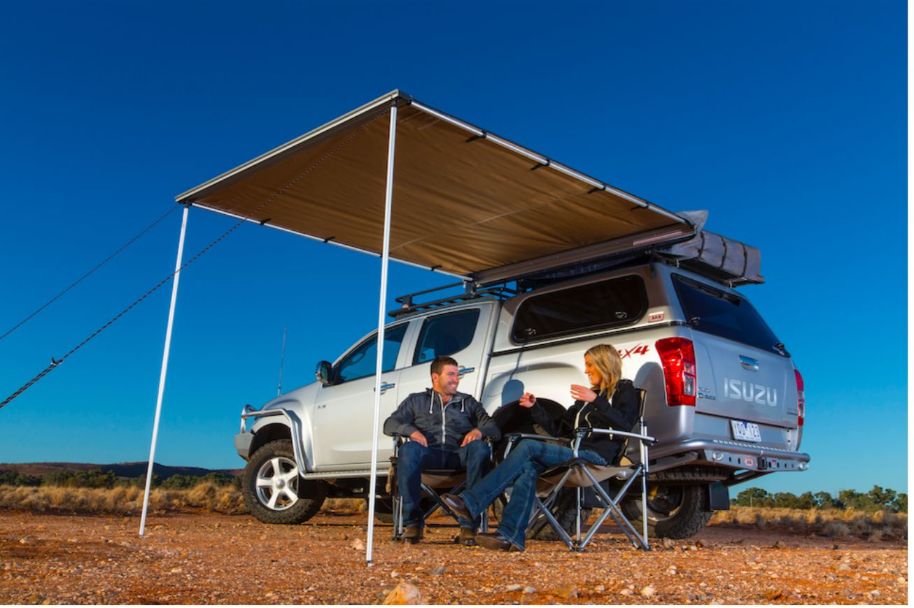 ARB is a brand created by longstanding British company Arbil, who supplies everything from jerry cans to camping gear to off-road accessories. All of their gear is durable and hard-wearing, designed for long stints of overlanding, and their ARB retractable awning is no exception.
It mounts directly onto a roof rack or roof bars, is entirely waterproof and up to 98% UV resistant. The construction is extremely durable, designed to be used in all sorts of overloading situations from deserts to mountains, and is constructed of a PU-coated 300gsm polycotton canvas supported by self-standing, height-adjustable telescopic legs.
The awning provides a total area of 98" x 98" of cover, weighs 37lbs and can reportedly be set up in just 30 seconds. It comes with pegs and guy ropes for securing, but accessories such as this awning room and mosquito nets can be purchased to upgrade it beyond a simple sun shade.
There aren't many downsides to speak of with this awning, aside from it being more difficult to set up alone than with two people, and the fact that the legs and supports will be prone to snapping in high winds if the awning is not set up properly. If everything is adjusted correctly and the awning is tight, there should be no issues, and the ARB awning is excellent value for money.
The premium option
Thule HideAway awning – $850 on Amazon
Thule is one of the most prominent brands in the outdoor market, a Swedish company who have been creating outdoor gear for the best part of a century.
What we're interested in is their HideAway awning, a direct- or rack-mounted awning made of a lightweight corrosion-resistant aluminum construction. It creates an area of shade that is 8.5ft or 10ft wide depending on which model you buy, and what makes this one of the best awnings for camper vans and sprinter vans is it unwinds with a hand crank that requires virtually no effort at all. Its spring-loaded tension arms help to give the HideAway almost complete wind resistance, and the roller tube optimizes the canopy's fabric tension for maximum stability.
It weighs 44lbs which is reasonably heavy, and its large size makes it an ideal Sprinter van awning. Thule also offers Sun Blocker G2 accessories to transform the canopy into a full room, such as a side, front and a rain blocker.
Although Thule's equipment is generally renowned for being virtually unbreakable, not everyone is going to want to fork out so much money for an awning. With a lot of use, the crank handle can be prone to getting stuck, and the awning requires a vehicle-specific adapter for direct mounting to flat surfaces. The mounting hardware is sold separately, but despite these few flaws the Thule awning is easily one of the toughest van awnings out there.
The high-tech option
Dometic 9100 Power Awning – $724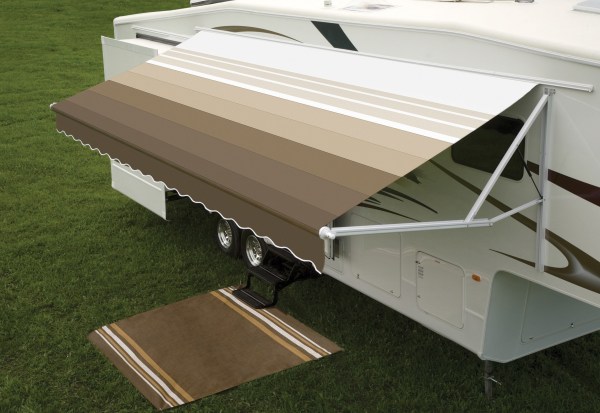 Dometic is the first and last word with all things RV and camper van, offering the best in refrigeration, climate control and sanitation from their headquarters in Sweden.
Their 9100 Power Awning is a great, hard-wearing choice for weather protection, but its most useful feature is the fully 12V electric motor which can deploy this awning at the touch of a button, making it a particularly good option for anyone with disabilities, and it draws a tiny 1.85amps of power.
The 9100 mounts to the wall of a van, but Dometic also make roof-mounted awnings too. They all share the same durable double-sided vinyl or woven acrylic canopy fabric, available in a choice of colors, and a self-supporting wind-resistant design. The awning comes with a vinyl or metal weather shield and a rain shed to prevent water pooling, although it does not come with arms or a hardware assembly, which can be purchased separately. Dometic also sells individual panels to create a van awning tent around the canopy.
Their 9100 Power Awning weighs a hefty 68.5 pounds so would be best suited to larger sprinter vans, with an impressive projection of between 10ft – 21ft depending on the model. Some Dometic electric awnings do have a built-in wind sensor that automatically retracts the awning in high winds, however this particular model does not.
Unfortunately the motor for this awning is often prone to burning out, however, replacements are readily available, so Dometic clearly knows there is an issue. The other thing to note is that the power to the awning is always live, meaning not only could it slowly drain your batteries when parked up, the awning could also accidentally be deployed in motion. However this is a minor issue that you can easily get around, and overall the Dometic 9100 Power Awning is a particularly good value for an electric awning.
Drive away awnings
Drive away awnings are much like tents. They can be erected with either steel or fiberglass poles or inflatable ones and attached temporarily to your van to create an enclosed, waterproof outdoor space, making them perfect for rainy days but also for escaping the sun. They are great for adding some precious floor space to your van, which we all know is a premium, and can be used for anything from lounging to cooking to sleeping extra friends or family. When you want to go out for the day the awning can be detached and left on site to provide extra storage for items you may not want to haul around in your van all day, and they are usually zippable to secure your stuff.
For this reason, they are only really useful on campsites, primarily for reserving your pitch, although they can also be great for festivals. For wild camping, erecting a huge extension onto the side of your van is likely to draw unwanted attention, so you'll want to weigh whether this kind of awning is suitable for you based on what style of camping you generally do.
It's important to note that there are left-hand drive and right-hand drive awnings available, and that not all awnings will be the right height to fit your camper, so it's best to check these things first before committing to a purchase.
There are all sorts of accessories available for drive away awnings, everything from windows, solid or mesh doors, porches, inner tents, rugs and carpets. There's also a choice between the traditional fiberglass or steel tent pole or the more practical and modern inflatable version; we've included a selection of both in our list to help you decide.
Our top pick
Vango Galli RSC Screen House – $887 on Amazon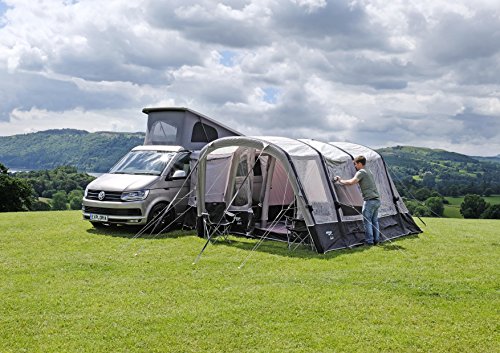 Vango is a well-established brand in the outdoor market, born in the rugged Scottish Highlands over five decades ago. Aside from everything from rucksacks to hiking boots, they've recently branched out into vehicle awnings.
The Galli RSC Screen House by Vango is a sturdy awning option with a large footprint of 183" x 126" with AirBeam inflatable poles for ease of setting up. These are inflated with Vango's AirSpeed valve system and the awning even comes with a pump. The fabric is a hard-wearing 420 denier double rip stop design by Sentinel Pro, with a 6000mm hydrostatic head, meaning it can hold up to 6000mm of water before it starts to leak through.
The awning comes with fully zipped mesh doors, a side attachment, webbing storm straps and a curved roof with pre-angled beams for added space. It weighs 47.6lbs and reportedly takes just minutes to set up, as well as offering an adjustable height of between 91" and 116".
The biggest gripe with the Vango Galli awning is that it is quite heavy, and despite being inflatable this can make it a bit difficult to set up. Its weight however does mean that it's very sturdy even in high winds, and for such a large space that this awning offers it's bound to be heavier than average.
The budget option
Skandika Aarhus TRAVEL outdoor minivan tent – $216 on Amazon
This is a slightly more budget-friendly offering from Skandika, a German company who felt inspired by the Scandinavian way of life and their love for the outdoors to create their own range of outdoor equipment.
The Aarhus TRAVEL outdoor minivan tent is one of their smaller drive away awnings, capable of sleeping two people as well as creating an extra indoor living space. It is made of a breathable polyester material with a PU-coated UV-resistant flysheet capable of withstanding up to 3,000mm of rain, and is erected using fiberglass and steel poles.
It has three entrances as well as windows, vents, mosquito netting and some handy organizer pockets, and comes with all the guy ropes and tent pegs you need to set it up along with a handy repair kit. The clever tunnel design offers an impressive 214" x 124" of floorspace, and a comfortable peak standing height of 80". It weighs 27.6 lbs and attaches to the van using suckers and a rope slung over the roof then tied down, but this can be removed and the rear of the tent zips up when you want to drive away.
For the price, it's not realistic to expect premium quality with this awning, and it doesn't fit all vans perfectly as it's designed for smaller T4-sized campers. It also takes two people to set it up, and is not the most stable of awnings due to its lightweight construction, although it was designed to withstand the harsh conditions of the Scottish Highlands.
Tailgate awnings
Tailgate awnings aren't technically a type of awning- they're actually considered more of an accessory, but they serve exactly the same purpose as a drive away or canopy awning: to create shade and shelter, or an extra room but at the rear of your camper instead of the side. They can be used as a standalone awning if your main entrance is at the rear of your camper, or they can be used in conjunction with other awnings to expand your outdoor space even further.
These aren't suitable for every kind of van due to their smaller size, but they are ideal for small vans with tailgates and particularly truck campers and 4x4s who often rely on having that extra bit of outdoor space out on the trails.
Tailgate awnings are generally far easier to assemble than other kinds, as they simply slide over the back of your vehicle, or work very much like a roof-mounted roll out awning for vans. They don't offer heaps of space but having an extra room at the rear of your camper could be handy for creating a washroom, adding storage space or a private toilet area, or even sleeping extra people and pets.
Our top pick
Tuff Stuff Rooftop Awning – $126 on Amazon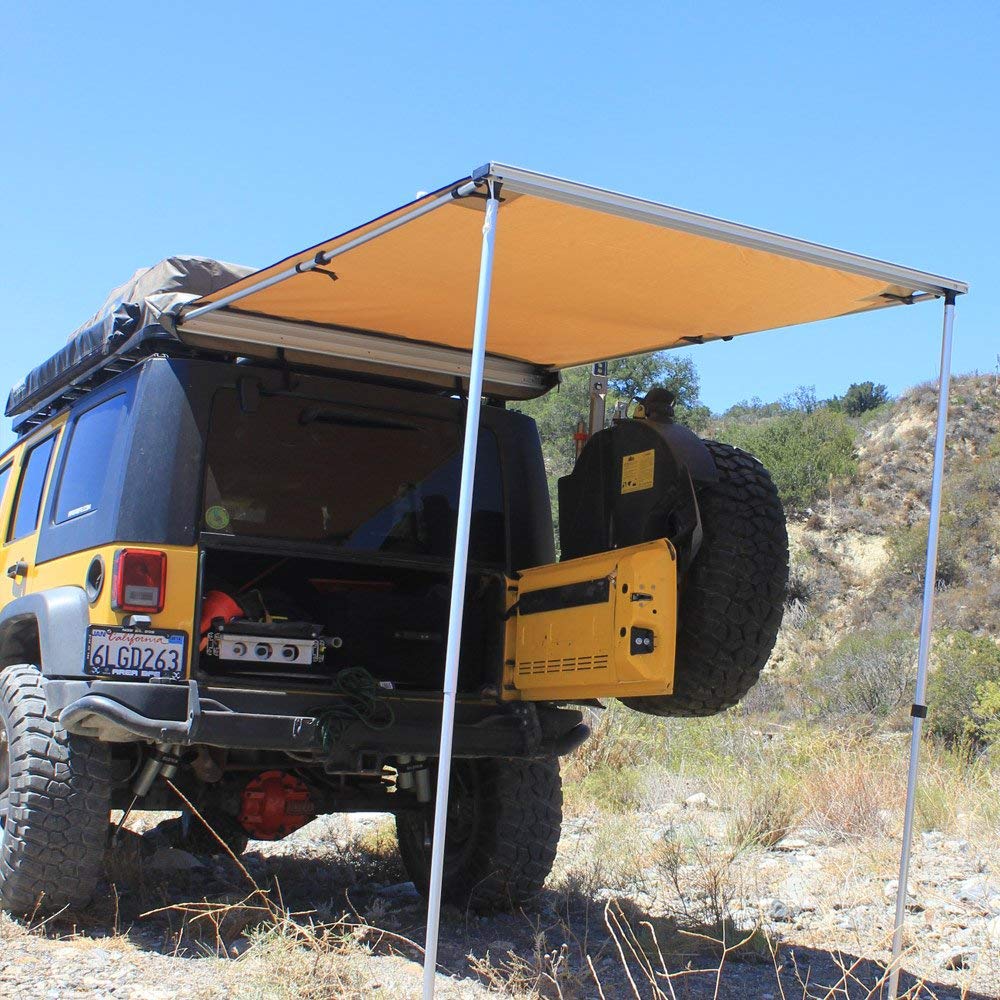 California-based company Tuff Stuff has developed a range of overlanding and off-road accessories, in particular, their versatile rooftop awning. It can be attached to the roof, roof rack or just about anywhere on a vehicle with its universal L bracket mounting system. It's ideal for truck campers and small overlanders but could easily be attached to most Class-B vans too.
The Tuff Stuff awning is constructed of high-quality polyester/cotton windproof fabric with an aluminum frame and heavy duty YKK zippers. It comes with a black PVC waterproof driving cover, four support arms and four velcro support loops per pole. The telescopic poles are around 7ft tall which means they can accommodate the height of most vans, and the whole thing weighs just 21 pounds while offering a comfortable 4.5ft x 6ft of shelter.
The awning takes around an hour to install then minutes to deploy, and accessories such as this awning shade wall are also available if you want to take your shelter to the next level.
The only downsides to this awning are that it can be a little complicated to set up, requiring more than one person, and that sometimes the mounting brackets need to be adapted to fit certain types of van, but with a little modification this becomes a highly versatile and durable awning to take with you on and off the road.
The budget option
KingCamp tailgate awning – $100 on Amazon
This large awning offering from KingCamp provides a comfortably sized shaded area and a universal vehicle fitting. It provides 76 square feet of shelter, and can act as a standalone shelter or be attached to the roof of a vehicle. The fabric is made of a 210 denier rip-stop polyester fabric, with air vents in the peak and a large mesh side window for added ventilation. The awning weighs just 9.7 lbs and is extremely portable, making it easy to just sling it into the back of your van before a road trip. The 6-10 ft telescope poles are designed primarily for SUVs and truck camper-sized vehicles, but there's no reason they wouldn't work just fine for smaller vans with a tailgate as well.
The main problem with the KingCamp awning is that as it's so lightweight it is not particularly sturdy in wind, and the materials are not the strongest or most durable, but being the cheapest option on this list you can't really go wrong.
Conclusion
There is so much choice when it comes to choosing an awning for your van or camping vehicle, and many things to consider before you buy, from style and design to size and weight.
As with all things when converting your van, your choice of awning is totally personal to you, based on your preferred camping style, your size van and of course your budget. They can be as basic as a roll-out sun shade, or as technical as a motorized van awning canopy. They can be used for storage, to save your spot at a campsite, to create a guest room or an extra outdoor cooking space. Just make sure you do your research and note the measurements to make sure whichever awning you choose will be the right size for your van.
Camper awnings come in all shapes and sizes so the decision is purely personal to you and your needs, whether you have a minivan, a truck camper or a full-sized RV, and we hope this guide will provide you with all the information you need to help you to narrow down your choices.