Choosing and buying an inverter for your camper van can seem a complicated business, especially if you have no electrical knowledge whatsoever. But don't worry; once you understand the basics it's really not so hard to decide what size inverter best suits your needs.
This guide will explain the basics of electrical currents, the different types of inverters, safety considerations and it includes a comparison of the best inverters on the market to help you make your decision.
Electrical terms:
A Amps: The intensity of a current passing through a wire (usually used to rate fuses or USB chargers).
Ah Amp-hour: Used to measure the amount of time in hours a battery can operate before it is exhausted. 1Ah = 1 hour of running at 1 amp. 100Ah = 100 hours of running at 1 amp, or 1 hour of running at 100 amps.
W Watts: The amount of power being consumed, used to measure how much power your appliances use (i.e. the higher the Wattage, the quicker it will drain your batteries).
V Volts: The voltage of a battery, measuring the potential energy between two points. Volts can be used as the closest measure of a battery's current capacity. Most batteries operate at 12V.
>10V = dead battery
>12V = needs charging
12V – ~13.5V = well charged battery
>13.5V = battery charging
a
Keeping a battery at below 12V for any long period of time can risk damaging the battery.
Continuous power (RMS): The amount of power an inverter can support over a long period of time.
Peak power: The amount of power an inverter can support for a brief period of time (i.e. most devices will create a short power surge when plugged in before returning to their normal running power).
If this seems confusing, think of this analogy instead. Volts are a river; the faster the river the higher the voltage. Amps are the amount of power that a person paddling in a canoe would need to put into their paddles to gain speed down the river. Watts are the amount of sweat produced as a by-product from all their paddling. If the river is fast then the canoeist won't need to work their paddles as hard and so they won't sweat as much. So if a system runs at a higher voltage then the amps and watts will be lower.
How inverters work
So the first question you're probably asking is: do I need an inverter at all? This depends on what appliances you plan to run in your van and what you plan to run them on. If you'll only be charging your phone and maybe running a cool box then this can all be done using the cigarette lighter in your van and you may not need an auxiliary system at all. However if you plan to charge your laptop, run a microwave, charge your power tools or run just about any household appliance then you're probably going to need an inverter.
So how does an inverter work?
Most batteries and portable electronic devices run on 12V DC, whereas most domestic appliances such as dishwashers and microwaves run on 230V AC. If you wish to use a household appliance in a van therefore you will need to convert your leisure batteries' 12V current into a 230V current. This is where an inverter comes in.
Say you want to use your coffee maker in your van, the inverter will convert your leisure battery's 12V current into a 230V current that will deliver the correct voltage to allow you to make coffee. However say you want to charge your laptop; the inverter will convert your battery's 12V current into a 230V current which your laptop's transformer will then convert back into a 12V current. This of course is an inefficient way to charge your laptop, so wherever possible it is best to run your appliances directly on 12V in your van. Many appliances can be run on 12V including fridges, laptop chargers, hairdryers, electric blankets and fans, so always look into these more power-economical options first.
Pure Sine Wave vs Modified Sine Wave
When shopping for a camper van inverter you will most likely have come across the terms "Pure Sine Wave" and "Modified Sine Wave", but what do these mean?
Simply put, both types of inverter convert a 12V DC current into a 230V AC current; the difference is how they do it. Pure sine wave inverters closely mimic an actual sine wave in the form of a smooth alternating wave which switches polarity each time it reaches zero volts, whereas modified sine wave inverters create a square wave where the polarity is flipped abruptly between negative and positive. This is best visualized in the form of a graph:
While a modified sine wave inverter will be fine to operate or charge most appliances, a pure sine wave inverter should be used for sensitive electronics or anything with an AC motor such as laptops, refrigerators and microwaves. Although pure sine wave inverters are more expensive than modified ones, the extra cost can be worth it to protect your electronics.
How to figure out what size inverter you need
There is a simple formula to figure out what capacity inverter you will need to run the electronics in your van. First, find all of the devices you plan to use in your van and make a note of their different Wattages; these can normally be found underneath or on the side of your device, and on the transformer of your laptop charger.
Next, decide which of these devices are the most powerful and which you will be running at the same time as each other i.e. you might need to charge two laptops, one 110W and one at 90W, so this would make 200W in total. Now add 20% to this number to give yourself a safe margin; you don't want to be maxing out your inverter with all of these devices plugged in. That would give us a power rating of 240W, so we'd be looking at buying an inverter that's around 250W-300W.
Choosing the correct size inverter is important for several reasons; if the power rating is too low you risk the inverter cutting out, getting damaged or even breaking altogether. Too high and you'll be consuming excess power and draining your battery much faster than necessary. Imagine trying to hammer in a nail with a sledgehammer; this is effectively what you're doing if you try to use a 3000W inverter to power a 90W charger. It'll do the job, but frankly it's just overkill.
Extra considerations:
Turn your inverter off when it's not in use as it can still draw power and drain your batteries in the background.
Ensure all electrical components are properly earthed to the metal of your van; improper grounding can cause issues like power surges or non-functioning.
Your inverter should be wired close to the batteries to minimize the amount of DC wiring you use. This is because AC wiring is far more efficient than DC wiring, and DC wiring should never be used to run anything more than 100A; for this you would need heavy duty wiring.
Your battery will only ever operate at 90% capacity, so take this into account.
Make sure you have enough battery capacity to power your inverter. The formula for working this out is as follows:

1.5W for every Ah of an FLA battery
3W for every Ah of an AGM battery
6W for every Ah of a Lithium battery
So to power a 300W inverter from an AGM battery, you should have at least 100Ah of battery capacity.
Inverter buying guide
100W +
This tiny little 150W inverter is perfect if you just want a bit of juice but don't necessarily want the hassle of installing a full-scale inverter as this one simply plugs into the cigarette lighter in your van.
It's the size of a credit card, constructed with a durable aluminum shell and comes with a built-in cooling fan as well as auto-shutdown in case of over-heating, over-loading, low load, short circuit or low voltage. It even has 1A and 2.1A USB chargers and weighs a tiny 8oz.
The only important thing to note with cigarette lighter power inverters is that they cannot be used to power anything over 400W max without serious risk of overloading.
One of the most recognized companies when it comes to all things solar, EPEVER is offering this small yet reliable 280W Pure Sine Wave inverter which would be perfect for charging a couple of laptops in your van. It has a 560W peak output, one AC port, one 1A USB port and a 32V fuse for safety. It also runs at 91% efficiency and has a relatively low THD (Total Harmonic Distortion) of <5%.
300W +
BESTEK is one of America's best-loved brands when it comes to inverters, and their 300W inverter with a 700W peak is ideal for powering your devices. It's a modified sine wave inverter with two AC ports, two 2.4A USB ports and a built-in 40A fuse. It also comes in an aluminium housing with a cooling fan, and protection against overheating, under- and over-voltage as well as short circuiting.
If you're looking for a pure sine wave inverter instead of a modified one then this 300W inverter from Giandel might just suit your needs, with a 600W peak output and aluminum alloy housing. It is 91% efficient, protects against over voltage, low voltage, short circuiting, overheating and overloading thanks to its 30A external fuse, and even has two 2.4A USB chargers and a smart cooling fan. All in all a great low-power choice for a van inverter.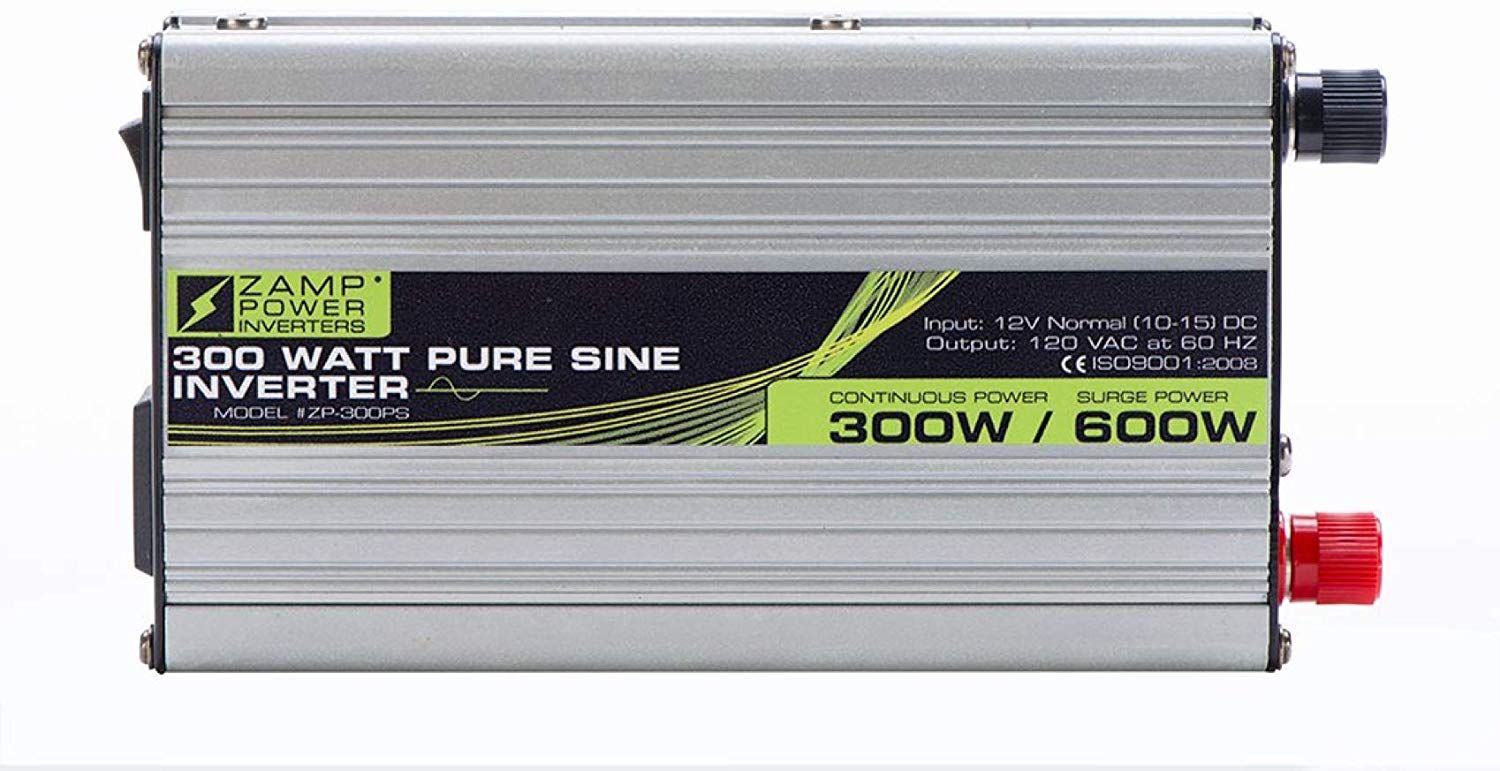 Zamp is a well-recognized brand when it comes to solar panels and solar charge controllers, so you can expect a similar quality of their 300W Pure Sine Wave inverter. It can withstand a 600W peak surge thanks to its heavy duty 40A fuse and comes with built-in protection against overheating, under- and over-voltage and short circuiting.
It has a single AC outlet and two 5V 1,000mA USB quick chargers, and can be wired straight onto your battery or plugged into a cigarette lighter.
Its low interference technology means it has a THD of just <3% while running at 90% efficiency, and it weighs a very modest 1.52lbs.
1000W
If you're looking for something a little more heavy duty in the inverter range then this 1100W power inverter from KRIËGER might just do the trick. It's a modified sine wave inverter capable of delivering 2200W at peak, with two AC outlets, two 2.1A USB ports and a wired remote control. It comes with all the usual surge and heat protection as well as a thermal fan and an LCD display with input/output voltage and battery level displayed.
If you're looking for something high-powered to power sensitive electronics then a GoWISE PS1002 Pure Sine Wave inverter that kicks out 1000W with a 2000W peak could be a good choice for you. It has three AC outputs, a 1A USB charger, a remote switch and protection against overload, over-voltage, under-voltage, overheating and a low voltage alarm. Its output is very clean too, with a THD of just <3%.
2000W+
Up in the category of very high-powered inverters we have the 2200W power inverter from BESTEK, a modified sine wave inverter with three 110V AC outlets and a 4600W peak output. It comes in an aluminium housing and its 50amp fuse protects it from over or under loading and an alarm sounds if the circuit shorts out.
A globally-recognized company, Energizer offers a sturdy, high-powered inverter that delivers 2000W or 4000W at peak. It has two AC outlets, two 2.4A USB ports, an LCD display with input/output wattage and battery level indicator, and protection against overload, temperature and short circuit. If quality is your concern, it's best to go with a well-recognized brand.
KRIËGER 3000W power inverter – $300 on Amazon
The highest powered inverter on this list, this 3000W inverter from KRIËGER packs a punch and will certainly do to power even the most power-hungry electronics in your van. It's a modified sine wave inverter with a 6000W peak, two 2.1A USB charging ports and a remote on/off switch. It has a silent thermal fan, an LCD screen to display input voltage, output wattage and battery level, and an ANL fuse to protect against overload, over- or under- voltage, high temperature and short circuiting.
Conclusion
So that's it, our guide to choosing the best inverter for your camper van conversion. All the electrical jargon can seem overwhelming at first but once you understand the basics you're well on your way to making an informed decision about the best inverter for your power needs.