Have you ever found yourself dreaming about the Van Life, fantasizing about having a tiny home on wheels of your own to travel around in, only to come crashing back down to reality when you realize you don't even know which end of a hammer to hold? Building your own van can be an extremely rewarding process and a chance to learn new skills, but maybe you lack the confidence, don't have the time, or you simply hate DIY.
Well, there's another way, and that's the growing number of manufacturers offering DIY conversion kits. These kits contain almost everything you need to get your van camper-ready and on the road, and most of them take less than a day to install with only some basic tools required. Best of all they can be custom-designed, so you can build the van of your dreams without ever having to saw a single piece of wood.
The only downside to van conversion kits of course is that they often cost significantly more than building a van from scratch yourself, although they sit in the mid-price range compared to coach-built motorhomes and pre-converted vans. The price can be a fair trade-off though if you're short on time, or you want a specialist custom design for your van interior, so conversion kits are definitely worth considering.
The only thing you'll need to buy of course will be a base van, of which there are many to choose from. There's the RAM Promaster, the Ford Econoline, but the one we've chosen to focus on in this article is the humble yet brilliant Mercedes Sprinter van. Sprinters make an excellent base van not least for their enormous size, but also for their unbeatable quality, the possibility of 4×4 capabilities, and availability of parts across the world right the way from the USA to Europe and beyond.
We've compiled a list of the best DIY conversion kits for your Sprinter van to help you decide which one's right for you.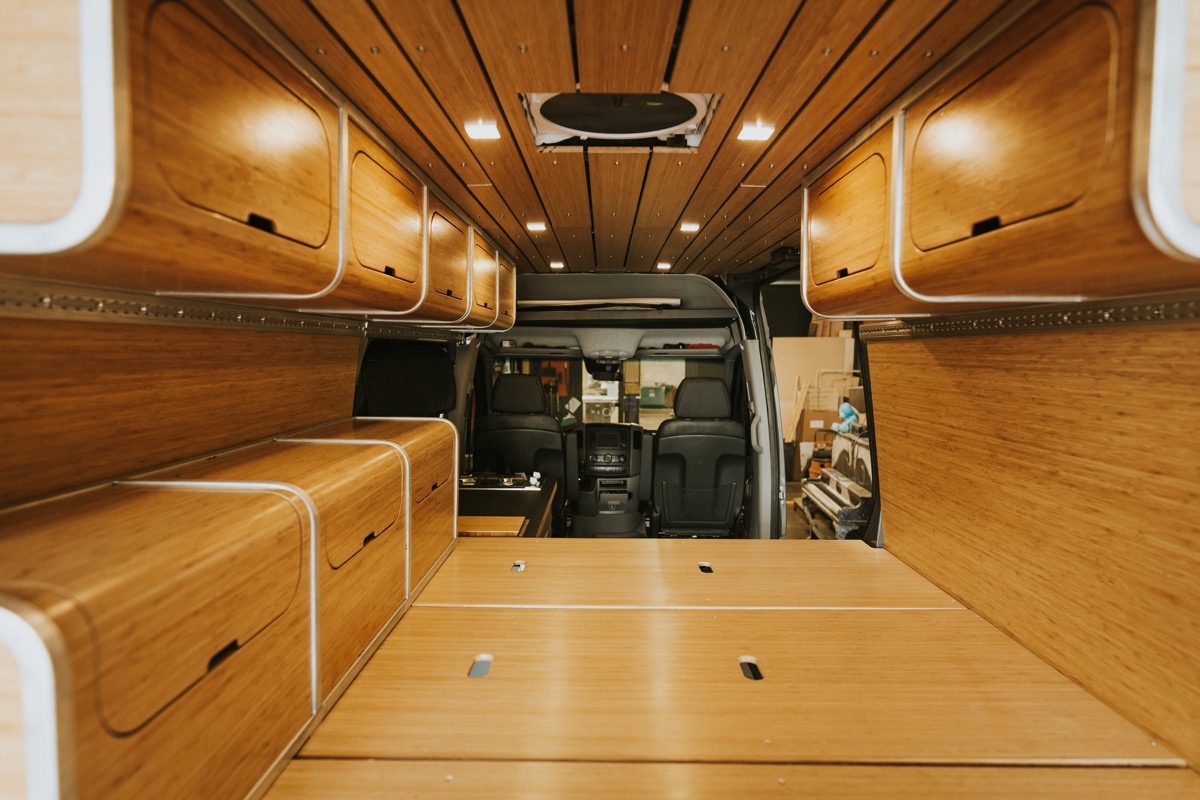 This DIY Van kit from ZENVANS has easily got to be one of the most stylish and homely van designs around, with sleek bent bamboo panels and crisp, modern aluminum details. The company was started by Bryan and Jen Danger from Portland, Oregon after being inspired by their own travels in a van. Once they'd finished their conversion they started getting requests from others to make kits for their vans too, and so the Dangers went into business together.
Their stylish kits offer beautiful warm tones and plenty of storage options to a van interior, designed specifically for 4×4 Sprinter vans. ZENVANZ chose bamboo for its renewability and sustainability as an ecological material, and not only does the kit install using the van's factory holes but it is also just as easily removed to turn it back into a daily driver.
The conversion kit includes a removable kitchen/galley with solid bamboo cabinetry and countertop, with a soft close cutlery drawer and the options to upgrade with a fridge/freezer, a 2 burner propane cooktop, a sink with faucet, a mounted tabletop or under-counter lighting.
There's a 3 panel bed system, with optional 7" Extreme Comfort mattress, and an oversized storage space beneath the bed. There's also plenty of storage in the form of bedside and upper cabinets with the option to add inside-cabinet LED lighting.
A fold-out gear-drying rack attaches to the upper door panel of the sliding door and has 5 bamboo hooks for hanging wet gear on; it folds flat when not in use to allow the door to slide open as normal.
If you want to customize your Sprinter van even further then ZENVANS offers bamboo ceiling, door and wall panels to match too, and 1/2" thick bamboo ceiling slats can be added to create an extra cozy touch to your interior. Starting price is $18,000 for a standard length van, or $22,000 for a long wheel base van.
If you're feeling intrigued we've dedicated a whole article to the ZENVANS conversion kit here, which contains all the details you need to know before purchasing, or alternatively more information can be found on the ZENVANS website.
If you're looking for something that's a little more practical and hard-wearing, and a kit that's all inclusive, then look no further than the Interior Conversion Kit by Adventure Wagon. Designed to fit either a 144 or a 170 wheelbase Sprinter van, this modular conversion kit comes not just with configurable sleep and storage options, but also all of the electrical components, ventilation and insulation you'd need for a complete camper conversion.
Adventure Wagon calls this modular system "future proof", meaning it can evolve and adapt along with you, and it's full of clever ideas to make your life easier, like telescoping cut-outs adjust to the bed's width to compensate for the van's curved roof.
The Adventure Wagon conversion kit will help you build up your van from the bottom to the top, starting with a complete wiring harness and accessories which will allow you to power the kit's two Maxxair ceiling fans, USB ports and LED lighting from your Sprinter's engine battery.
One huge advantage of using this kit is that Adventure Wagon will actually pre-cut all of the insulation you need to fit your Sprinter van's exact shape, and the insulation portion of the kit includes Hushmat sound deadener and 3M wall and ceiling insulation backed with reflectix for extra heat retention. Then 6mm marine-grade plywood panels, upholstered in a choice of fabric colors and pre-drilled for mounting power outlets, can be added; these come with LED lighting already installed, and all installation hardware is included.
Finally, wall and ceiling braces are included for L-track vertical, horizontal and ceiling tracks to mount your gear, or to install the optional MOAB bed (that's the Mother Of All Beds to you and me), the Monk Bunk or Mule Storage Bags which function like overhead storage cabinets.
Then there's a whole range of options and upgrades that can be added, from different fabric colors to an upholstered bamboo ceiling light panel, an OEM or AdWag aux battery, and vinyl or bamboo flooring.
Base prices start at $11,500 for a 144WB Sprinter and rise to $13,500 for a 170WB Sprinter, and Adventure Wagon can sell either individual components or entire kits. The kit can be easily installed by the buyer, or for an extra $5,000 the guys at Adventure Wagon will kit your van out for you. Production time is around 1-2 weeks, although the kits will only fit Mercedes Sprinters that are from 2007 or newer.
For more information check out the Adventure Wagon website.
Of all the kits in this list, Wandervans are offering the cheapest and most accessible route into Vanlife. They originally started as a camper rental company in Boise, Idaho but have since branched out into van conversion kits designed to fit both Ford Transit vans and Mercedes Sprinters.
Their conversion kits are centered around either a single or double tier bed with a ladder, capable of sleeping two and four people respectively. The lower bed can be removed to haul gear such as boards and bikes, or the mattress can be lifted up at the rear to create extra counter space or to create a sofa. The kit also includes hooks and storage, and a small kitchen unit with a stainless steel sink, hand pump tap and a 2 gallon water container.
Optional extras to choose from are an Eberspacher AirTronic space heater (add $2,000), a shower system (add $300) and an external kayak/SUP rack for an additional $1,000.
Wandervans' kits start at $4,000 for the single tier model and go up to $7,500 for the double tier. The conversion kits reportedly take just 8 hours to install too, so you can be ready to hit the road in less than a day's work.
More information can be found over on the Wandervans website.
.
So there we have it, the best Mercedes Sprinter Van conversion kits that can get you on the road quicker, easier and above all in style. All of these companies offer a great range of customizable and often modular kits that you can install yourself typically in less than a day, allowing you to have a custom fitted van interior with none of the hassle of DIY.
If you're looking for something smaller than a full-on conversion kit why not look into removable camper modules, such as the plug n play TK Van kitchen from Trail Kitchens, the PlugVan camping module which can be moved between vans, or even the jumbo pegboard-style modules from Cargo Clips?
There's no right or wrong way to convert your Sprinter van, and conversion kits take the pain out of the DIY process, allowing you to get on the road quicker and easier.