One of the most vital parts of any van conversion is a continuous source of water, an essential part of day to day life no matter whether you live in a vehicle or a house. Water storage should be the foundation to any van conversion which you build everything else around, but this opens up so many questions it can all seem overwhelming: How much water will I need? How should I store it? Do I need a separate source for drinking water, or a waste water tank? Which tank should I buy?
Well, don't worry, because we've got you covered with our guide to the different types of camper van water tanks and the best buys for each category.
Considerations
Size
What size tank you will need will depend largely on two things: how much water you'll consume, and how long you'll likely go between filling up. It's only possible to estimate these things of course, but as a general rule you should estimate a minimum of one gallon (~4L) per person per day for drinking, cooking and cleaning. Things like showering, washing and water for pets will of course use more water, so you'll need to work out your own estimates, but it's best to always keep a good reserve.
How long the stints will be between filling up is also an important factor to consider: will you be traveling to places with an abundance of springs or filler stations, or will you be camping way out in the desert where there's not a drop in sight? If you'll be traveling a lot through wild areas you might want to factor in a slightly bigger tank to give you those all-important reserves you need, because nobody wants to run out of drinking water in the middle of nowhere.
Weight
Your vehicle's payload is an important consideration when deciding on the size of your tank. Remember that 1 liter of water weighs 1kg, so that means 1 gallon of water will weigh 3.78kg or just over 8lbs.
It's also very important to balance the weight of your full tank with the other items in your van; i.e. if you're planning to carry a lot of water, don't fit the water and fuel tanks on the same side, or your van could end up leaning over to one side.
Fitting an under-van water tank could also make it vulnerable to the cold, so be aware of this if you are traveling to colder climates.
Material
Most van water tanks are made of BPA-free food-grade plastic such as polyethylene, however do check that this is the case or the chemicals from the plastic could end up leaching into your drinking water. This doesn't matter if you'll be keeping a separate drinking supply, although some people find that even food grade plastic containers give their water a funny taste, so you may want to consider an alternative material such as stainless steel for this.
Sterilization
Keeping your water tanks clean and sterile is an important task as sitting water can quickly become slimy and grow bacteria such as legionella.
Flush them out with cleaning solutions or natural products such as vinegar or bicarbonate of soda regularly, or opt for a leave-in water sterilizer such as Milton.
Underslung fresh water tanks
These fresh water tanks come in many shapes and sizes and can be mounted underneath or inside your van. Under van-mounted water tanks will require installation such as brackets whereas interior-mounted tanks can fit into any corners or crevices like underneath the bed or inside the kitchen cupboards. These are particularly good if you are looking for a Sprinter van water tank or a water supply for any large van.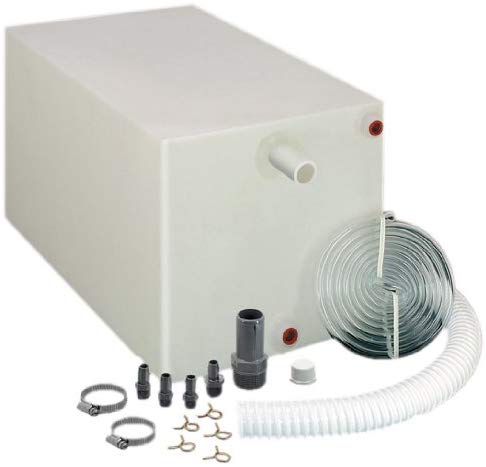 Barker Manufacturing Company provides an entire kit including a 20 gallon (76L) tank made of high impact plastic, supply hose and fittings. The tank is constructed of non-toxic food-grade polyethylene which is tasteless, odorless, rust and corrosion-proof, and it measures 32" x 12" x 12".
RecPro makes sturdy water tanks for RVs, campers and trailers in various different sizes ranging from 10 to 100 gallons (38L to 390L). Their tanks are seamlessly constructed to prevent leaks and blowouts, made of 1/8" thick FDA-approved BPA-free plastic. They are fitted with multiple ports for easy hook-ups including a 1.25" water fill inlet and 3/8" NPT connections which are included. The tank measures 39″ x 18″ x 14".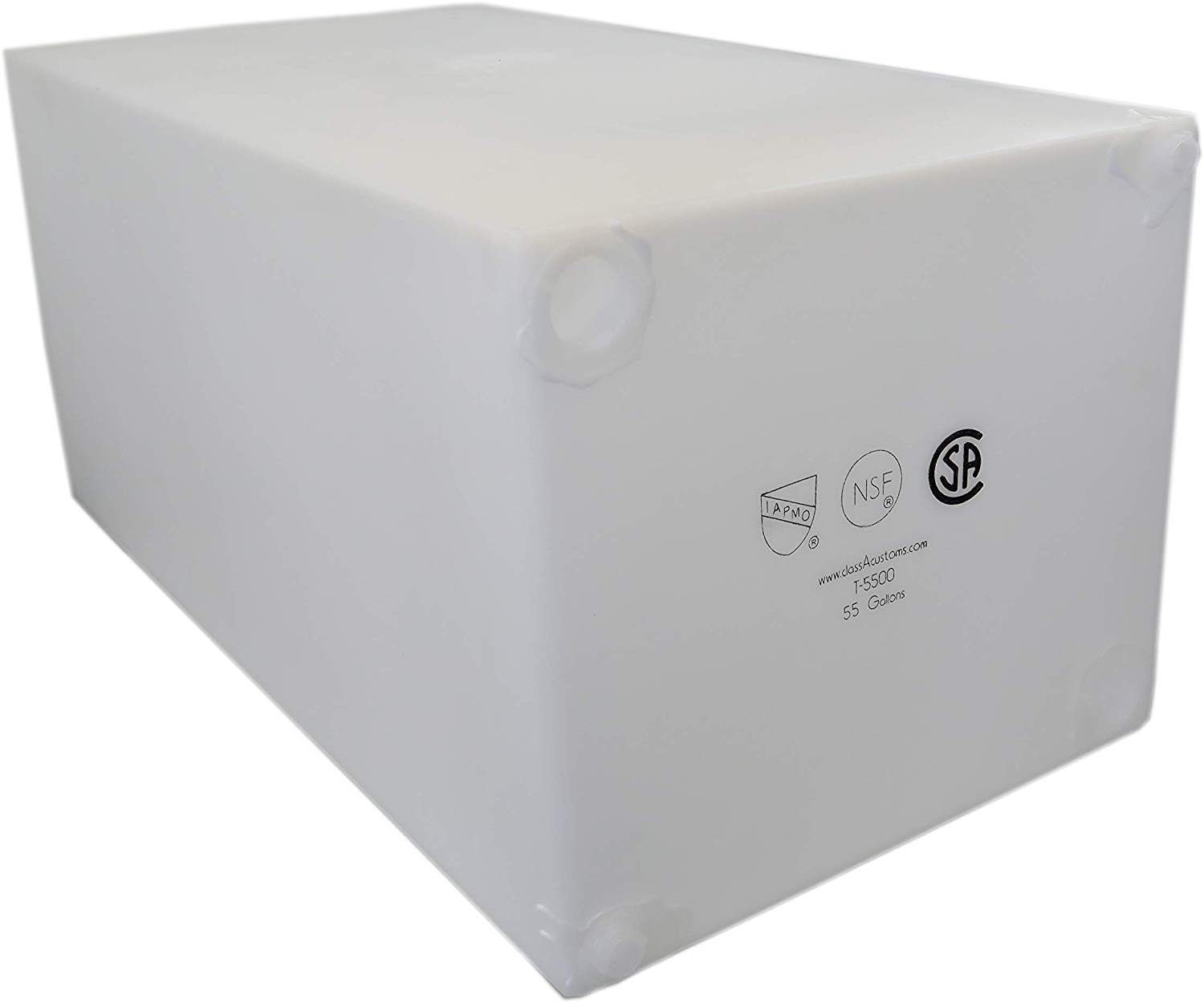 Class A Customs are a US-based manufacturer who specialize in water tanks for RVs and concession trailers, and their 55 gallon (208L) tank is the biggest one we've included on this list. It's made of NSF and FDA-approved BPA-free 7/32" thick plastic material so it's safe to hold drinking water. It comes with two ½" screw in balloon fittings but it is a non-pressurized tank meaning it needs to be ventilated to be used. It measures 37.5" x 17.5" x 19.5".
Grey water tanks
Grey water tanks are generally not made of food safe material as they are designed to hold waste water from your camper van's sink or shower. These are generally mounted outside the van for ease of emptying when full.
Valterra offers a lightweight 15 gallon (57L) waste water tank made of algae-free black ABS plastic. It can be easily installed and is universally designed with six 3/8" threaded fittings already installed. It measures 8" x 16" x 30".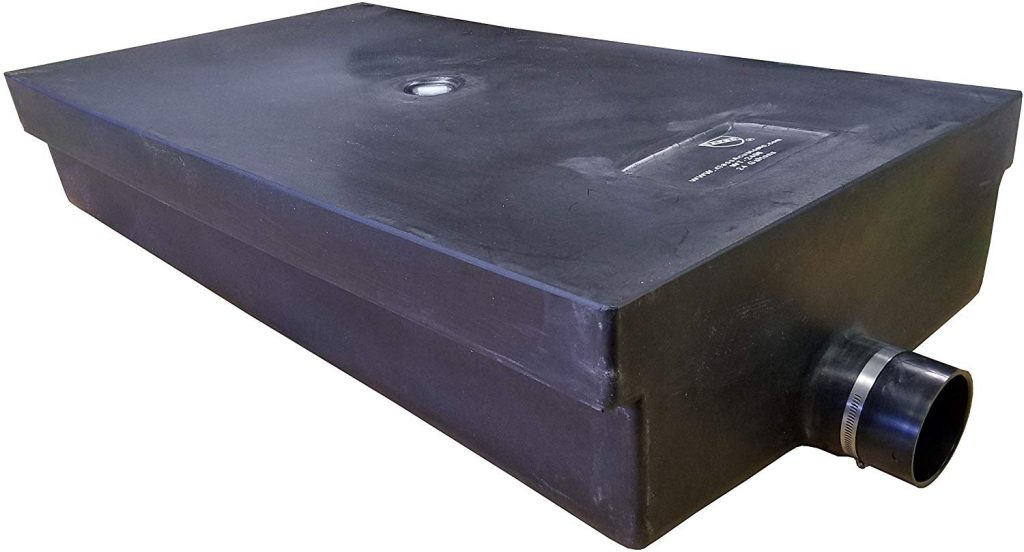 Another offering from Class A Customs on this list, this time their 24 gallon (91L) black waste water holding tank. This large tank is made of medium density polyethylene resin, constructed seamlessly to prevent the possibility of leaks. It measures 42.5" x 23" x 9.25" and comes with a 3" PVC female pipe adapter already fitted.
Portable water tanks
Portable water tanks can be a great option not only for a low budget van conversion but also for an instant water source with no installation required. They can easily be removed from the van for refilling, although they do hold significantly less water than an under-van water tank.
This portable water container from REDCAMP can hold 4.9 gallons of water (18.5L) in a unit that measures 12.6" x 15.7" x 6.7", making it an ideal size for stowing away in cupboards. It comes with a sealing cap, water pipe and cleaning brush, and is made of an odorless, food-grade HDPE plastic that is BPA and PVC-free so it is great for those who are concerned about their water's taste.
Igloo offers a slightly larger 6 gallon (23L) portable water tank that is manufactured in the United States out of a rugged, heavy walled plastic construction. It measures 13.8" x 7.38" x 20.62" and comes in a vibrant blue color to clearly distinguish it from other types of water you might be carrying.
Drinking water tanks
For some the taste a plastic water tank can leave can be off-putting, or perhaps you might want something a little fancier and more rugged for dispensing water, so we've compiled a selection of stainless steel water tanks for drinking water, some of which have built-in filters allowing you to sterilize the water before you drink it- really handy for those long off-grid stints.
Berkey filters are well-known across the globe for providing high quality containers that filter up to 99.99% of contaminants out of the water. Their Big Berkey filter can hold 2.25 gallons (8.5L) of water and the kit includes two lids, a spigot, two Black Berkey filters and two fluoride elements capable of filtering 3000 and 1000 gallons (11,356 and 3,785 liters) respectively before reaching the end of their lifespan. The container is made of high grade 304 stainless steel and measures 8.5" round by 21" high when assembled.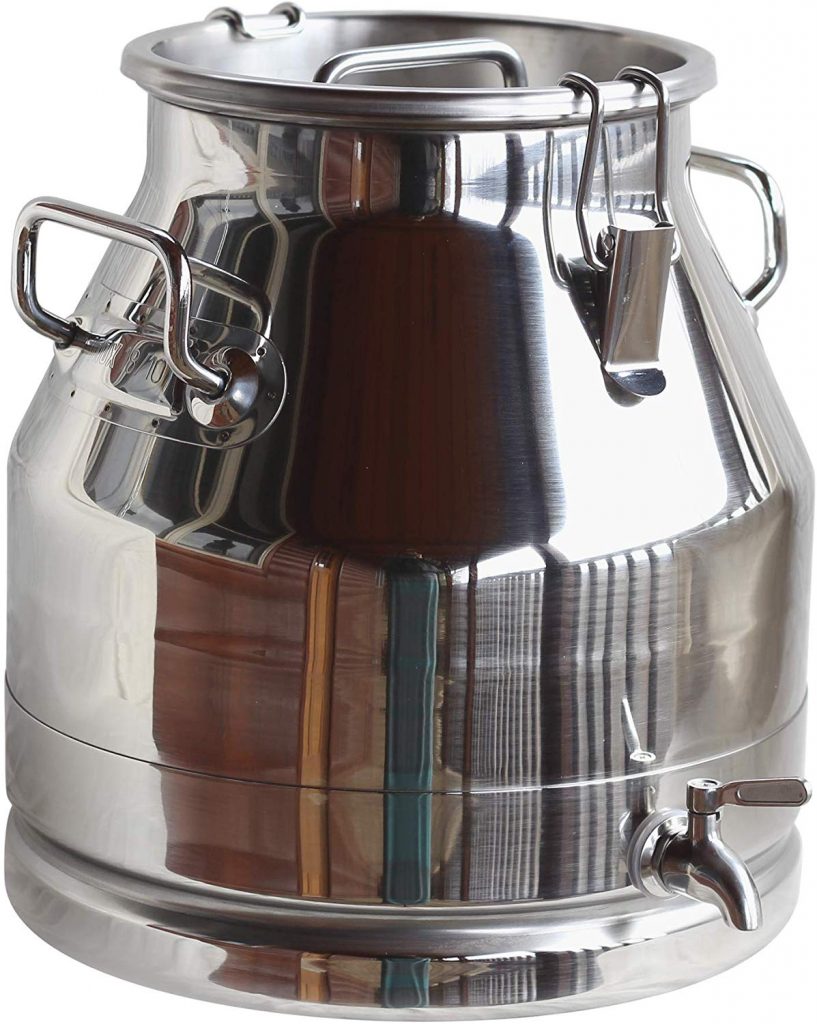 This stainless steel milk churn-shaped transport can is a quirky, decorative way to carry water. It's constructed of solid 304 grade stainless steel with no interior seams, has a strong handled lid with a rubber sealing gasket and a spigot for easy dispensing. It comes in 2.6, 5, 10 and 13 gallon options (9.8, 19, 38 and 49 liters), with a secure-close lid for easy transportation.
This NSF stainless steel water dispenser from Samson is a great way of carrying and dispensing water for drinking as it's made of 316 high quality food-grade stainless steel that doesn't rust. It measures 12.2" high and 11" round, comes with a 1/2" NSF stainless steel lever spigot and comes in a choice of sizes ranging from 3L up to 100L (0.79 – 26 gallons).
Conclusion
So that's it, our guide to the different types of water tanks you might need in your van conversion.
Remember, it's important to calculate your individual water consumption needs before committing to a purchase, and it's also a case of personal preference and traveling style too. Just make sure to always fill up from reliable drinking sources and to keep your tanks clean.