To do what we love, with each other for as long as we can… that's the dream. It all came together through a love of the sun, ocean and open road. We didn't want to just 'do a lap' of Australia (even though this is one of the greatest things ever). We wanted to live on the road full time – indefinitely. About a year before we purchased our bus (Luna) we started our clothing label, Modern Day Gypsy Clothing. This is our way of working on the road! We sell online, collaborate with bloggers and photographers and we stop and do markets where we can… we also sell directly from the bus, we call it our 'moveable boutique'.
Clothes and prints has always been our passion, it's what inspired us to start a clothing label. We quit our university studies and with a trip to Bali decided to throw our creative energies into a label that we could take on the road with us!
Here are my tips for starting a clothing label
 Do your research.
We had originally planned on getting our shirts made and printed in Indonesia. However, we found it near impossible to find an ethical t-shirt printing factory. At the time we were located in Geelong, Victoria. So we had our printing done in Melbourne, we moved factories three times and we are now with Propaganda Printing – keeping local jobs thriving. This is what's important to us. As much research as we did, it still took us a year to find our best fit – don't be afraid to ask people for advice or guidance!! You have every right to know your factory, most allow walkthroughs and show you how everything is made and printed (I highly recommend this) if you can. It allows you to understand the process better!
 Stick to your vision
The best advice I can give you about designing your products is to always stick to your vision. At the beginning of your journey, make a journal or a mood board about your brand. Stay true to your vision and your beliefs! If you are a start out or small business it's important to keep your beliefs in check – I suggest making a list in your journal or diary about what you want to achieve. Here are a few basics things to include.
– sustainable, environmental + ethical practices
– your brands ethos + image
– Goals and dreams
– Community involvement (giving back)
– Your ideal customer
Be super open minded.
You are going to learn so much, don't feel like you are failing because you don't know what you are doing, it's all a learning curve – we learnt so much through online tutorials and YouTube clips. Talk to others and get advice, you don't have to take it, but it's so important to be open minded to their knowledge. You need to be aware that things might not go the way you had planned (this is not failure) this is growth. Be open to change and new things – you should aim to learn something new every two days.
DO NOT COMPARE
Take your time with the journey – do not compare yourself to other brands and businesses. Huge companies have teams of 50 or more people, making products in less than a week!! You are a small business doing ALL of the work and every job, don't let it get to you too much, instead be proud to be small and independent. Use social media platforms like Facebook and Instagram to connect and collaborate. Help to build other brands with your own brand, support other creatives in their journey as well as your own.
There are great apps to use to connect with influencers such as 'Brandsnob'. It's a great way to connect marketing prospects and build online platforms.
 If you're going on the road…
If you are taking your business on the road, work out how you want to work!!
– You can either take the stock with you and send from the road (this can be hard with return addresses) or keeping up with consistency – especially if you are in remote areas.
– There is also the option of drop shipping. Which means you leave your stock with someone, and they send out your orders for you from the same locations every time – which allows for returns and a consistent address.
Everyone works differently, but if you're on the road it's important to keep up to date with your workload and staying in touch with your customers.
GOING ONLINE
Going online is one the best things you can do for your business. If you are based just online or have a shop – getting your website working is super important. There are so many platforms to build a website (and it's not as hard as you might think). There are sites such as shopify, wix or squarespace. The prices range for certain features, but they are worth it every step of the way. The other option of course is having a web designer build your website from scratch giving you a unique and original online space. You will work out what is best for you, depending on your budget and skills.
Have fun with the journey and the process, be creative and let the good times flow!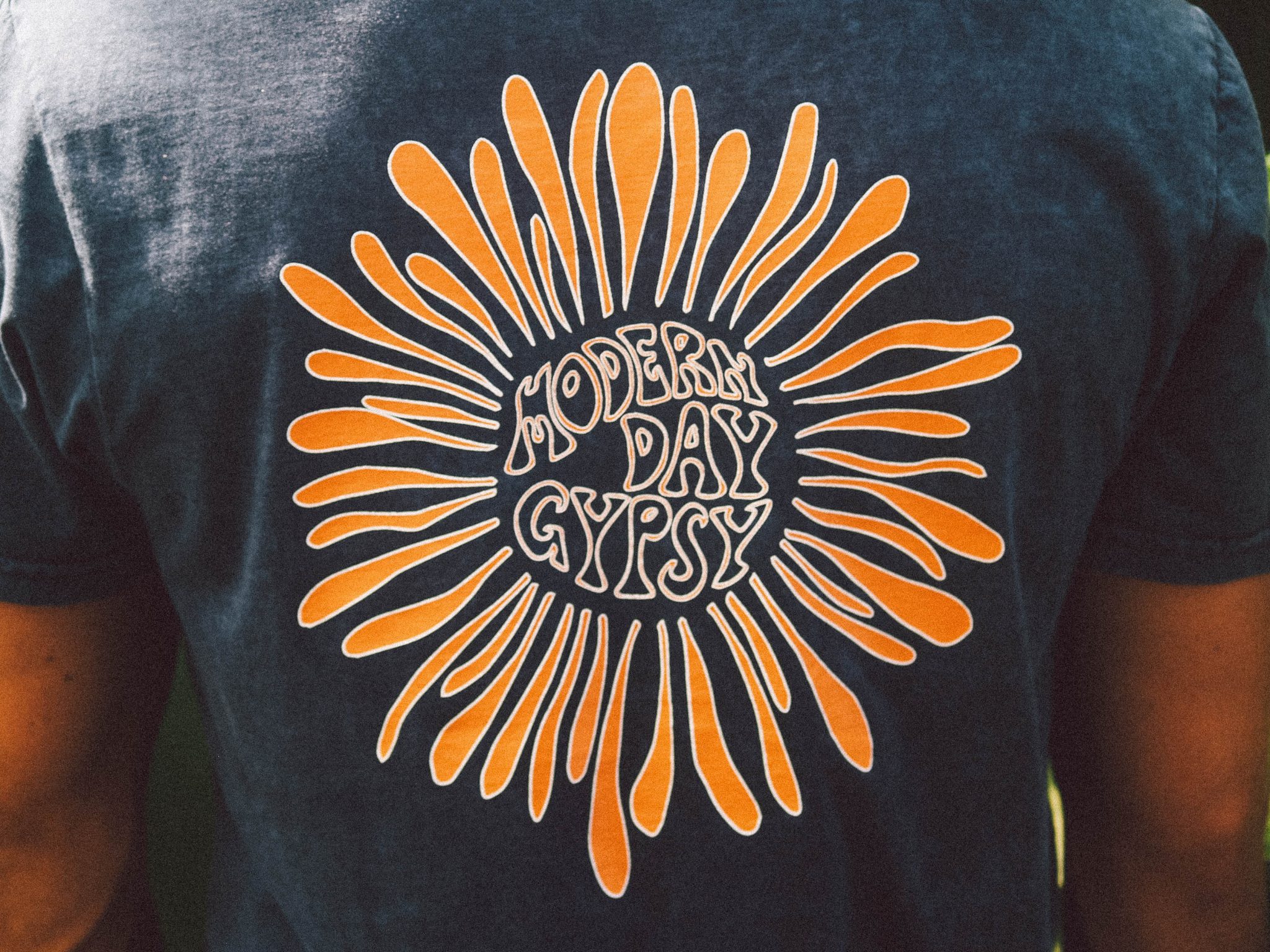 You can check out Modern Day Gypsey at www.moderndaygypsyclothing.com
If you're a van lifer interested in writing an article for Outbound Living, visit our Become a Contributor page. 
---
---