We often see the nicest pictures of #vanlifers by the beach camping with friends from all around the world and having the time of their lives. When we see those we can easily forget that #vanlife is not always camping on the beach, having a great time in the sun and relaxing like it might look like. After over 10 months on the road, we have enough experience to say that there are some downsides of vanlife. You should read the following to see if this lifestyle suits you.
Here are the Top Things to Consider Before Living in a Van
1. The Space
Look, you will be living full-time in less than 10.2 square meters (110 square feet) with your boyfriend, possibly your dog, your cat and maybe even your 3 surfs, kitesurfing equipment and bikes.
Ok, you'll tell me that there are some super comfortable and roomy RVs, but did you actually check the prices of those things? I don't know if they are 100% made of gold or something but god knows how expensive those things are. I'm sure it's going to turn you off right away when you see the prices of RVs.
And even if you had the coziest van in the world, the days where the sun is bright and you are chilling on the nicest beach in Baja California with fellow #vanlifers, you'll think that #vanlife is the best thing on earth and you'll wonder why you've waited so long before leaving on this journey.
But when you'll be stuck in the same coziest van ever in the never stopping Central America's rain season or just on the U.S. Pacific Coast during the fall squatting in a McDonald's parking lot for free wifi for days, or watching the 5 seasons of Breaking Bad in a week, trust me you'll wonder what the heck you are doing there in your stupid RV.
Also, if you aren't the cleanest, tidiest person you run the risk of becoming totally crazy. Your living area is so small that you need to keep it clean and organized. If you don't you'll suffer from it, and when I say suffer, I mean you'll want to crash that garbage van off a cliff. Look, when doing the spring cleaning takes you 2 hours maximum, I think you have to take that time and make your home the place where you enjoy being at. If not, the trip will be a loooooong ride.
And by the way, it's not like if you were working tomorrow morning at the office or something, right?!
2. Personal Space
So I'll be super honest and realistic here; the majority of #vanlifers that we meet on the road don't have a toilet or a shower in their vans. When you leave for a long camping weekend, you reserve a decent campground, you park your van next to the cute little picnic table & fire pit and you're all set. However, when you leave for a longer period and boondocking (sleeping pretty much everywhere you don't need to pay) is your ultimate goal, the little easy things from life can get a little complicated.
Walmarts are very handy in Canada & the U.S. since you wake up with a clean bathroom just next door and most of the time even a McCafé with cappuccinos at 1$ and decent free Wifi (god I miss those mornings).
But when you cross into the jungle of Belize or the volcanoes of Guatemala, I have to admit it is not the case anymore, and you will need to revisit your hygiene routine.
So one of the first "personal care" tools that we bought very early on this trip (second or third day actually) was our favourite Wal Mart "blue smiley face" 5 gallon bucket for no. 1 when bushes are out of reach or when in Toronto, Vancouver or San Francisco and McDonald's are not close by.
You have to know that the first time that you'll be using that bucket in your van while your bf cooks dinner or drives on the highway, you'll be crossing a major point of no return for your relationship.
Then, in Baja California, we bought a shovel as our "personal care" tool for no.2 while in the desert for digging holes in the sand in times without access to a bathroom. Imagine the scene there, you wake up in the morning parked right on the beach with the sound of the waves in the background and your bf jumps out of bed, reaches for the shovel and runs to the sand dunes.
The toilet is one issue, but the biggest issue that most #vanlifers encounter is not having a shower in their van and struggling to find a place to bathe. You are in warm AF Mexico, it is 40 degrees Celsius (104F) from noon to midnight in April or May, and you are sweating your ass off. What do you want to have? Answer: a damn shower!
If you don't have a shower, trust me your friends will leave, your bf will stay further, and at one point you will disgust your own self.
Personally, we haven't had this issue since Patrick installed an outdoor shower on the bus with about 150 liters (40 G) of water storage and an on-demand water heater but you know… we still don't shower every day anyway :p
3. Budget
Well, you are on a long-term trip, not in a 5-star hotel, so don't expect to be treated like a princess and greeted with a pina colada and a flower necklace when you get to your next camp spot.
If you are not working on the road while traveling you will have to work your ass off before leaving if you want to sustain your trip. People write to me every day asking how we can afford such a trip. My response to all of them would be: WE WORKED !!
You will need to compromise and cut expenses on some stuff if you want to be able to save enough for your trip. This might be the hardest part for most people. Pat & I both had shitty rusty cars for years, weren't big spenders, and avoided Starbucks coffee at 7$ while bringing lunch to our respective jobs.
To be honest, if you are determined, I believe everyone can do it.
I thoroughly keep track of all expenses on a daily basis and I did budget summaries of our expenses in Canada, USA, Mexico & Belize. We've spent around 1000$ CAD each per month on this trip.
To keep track of all expenses we use the APP Trabee Pocket which I really like since you can put your expenses in different categories and that helps me with monthly budget summaries.
We could definitely spend less, but we also could easily spend double this amount for the same trip, but we would have to come back home earlier, which we really don't want to do.
On this trip, we decided to cut out some types of expenses like campgrounds, tour guides, restaurants and personal care (ie. clothes & beauty products) in order to be able to spend more on activities and increase our time on the road.
Our home on wheels allows us to cook a lot of meals, and we save on public transports and most other accommodations. On the other side, we spend a lot on fuel, car maintenance, and mechanical repairs.
Traveling long-term involves always asking the price before buying something and bargaining as often as possible. We make sure we don't pay the "gringo" price which can be exhausting sometimes.
This type of trip is not for everyone, and it is a good thing to think about before leaving.
4. Mechanical Skills
So you just bought the cutest Westfalia 1977. It's super well maintained, repainted, and it only has 370,000 km (229,907 miles) on it, but you've never done an oil change or tire rotation in your life. Well, good luck my friend!
I am not saying it is impossible to travel in a van without mechanical knowledge because many people do so. However, it is much easier and will cause much less stress during your trip. I don't know much about mechanics, but I am lucky enough to have my own personal mechanical pro 24-7 with me as a private driver & I am grateful to have him onboard.
Look, you might think your van is in good condition even though it is not recent, but think about it twice before buying because it could give you the worst headaches during your ultimate road trip. There were a number of travelers we met on this trip with major or minor mechanical issues that totally poisoned their trip. Even some to the point of leaving the vehicle behind and making their way back home.
Mechanical issues can slow down your trip, lead you to spending days, nights & even weeks at the mechanics. This will take quite a toll on your budget. The type of vehicle that you will pick for your trip and the budget that you will allow for your van could make a huge difference in your experience.
Personally, we didn't have the budget to buy a previously converted vehicle, and even an empty Sprinter van seemed expensive for what you get. This is why we decided to go forward with buying the school bus. We could get a 2006 truck with 200,000 km (124,274 miles) for as low as 5000$ CAD.
We'll be really straightforward here; if you don't know how to check your transmission oil, you might be better off spending a little bit more for a younger vehicle and be able to make it to Maine. If you are thinking about staying in Canada & the US, you might want to consider paying for a CAA or AA membership for 150$ or less a year and benefit from their support in case you need it.
Also, needless to say, the mechanical inspections prior to buying a used vehicle are NECESSARY for you to know what you're getting yourself into. You cannot imagine how bad the roads are in Central America, and trust me, you want to have a reliable vehicle out here.
Today, it took us 3 hours to do 75 kilometers (47 miles) from Antigua Guatemala to Lake Atitlan, and we went from 1550 meters above sea level (5085 feet), up to 2900 meters (9514 feet) and back down to 1000 meters (621 feet) in those same 75 km, on the edge of a cliff.
In those situations, you'll deeply regret cheaping on your break pads to save 40$. Your life depends on them… really!
Sleeping at the mechanics is never fun, and good luck finding the parts for your vehicle in Central America because it might be the longest journey of your trip!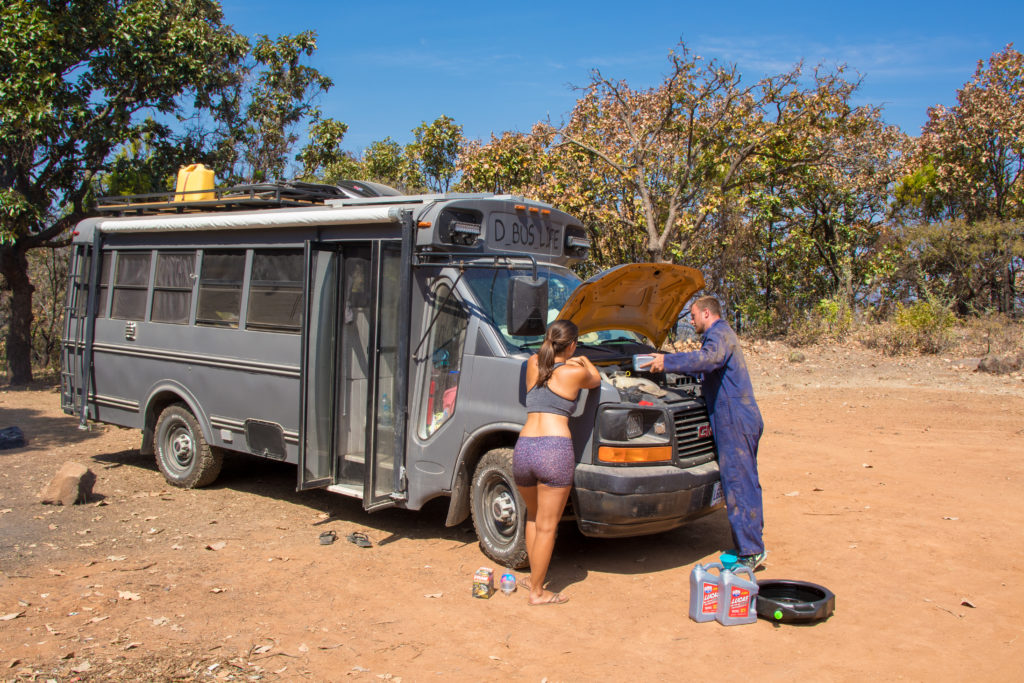 5. Where are we Sleeping Tonight?
When we left Montreal in September of 2017 to start our adventure. Patrick's mom was asking us this question all the time: ''but where are you gonna sleep tonight?".
And everytime we had no freaking clue and we didn't know what to tell here. So we would answer something stupid to freak her out like, at the police station, with the homeless people at the central park, or under the quietest overpass we can find.
For her and for many other people out there, the fact of not knowing where you will sleep tonight or tomorrow is totally horrifying, and some people could not support this instability. For us, it was the total opposite, and to be honest we didn't even think about it before bedtime.
In 10 months of traveling in a van, we always found decent places to park and camp even though we strolled some towns for a quite a bit before finding somewhere we thought we wouldn't be bothered.
Sometimes we would find a sketchy area and we would wonder if it was a good plan or not before settling down for the night. Then just a couple hours after finally being awoken by the police or security in the middle of the night to be asked to leave. We've also been woken up by crazy parties at 4 am and by gangs of street dogs barking to the moon.
If this scenario scares you to death I strongly recommend you reconsider #vanlife or just adjust your budget while taking into consideration you will be paying for established campgrounds or hostels on the road.
In Mexico, you can find properly overpriced, not so clean campgrounds, but when you cross into Belize or Guatemala don't expect to have campgrounds with swimming pools, free wifi and a cantine there.
Remember that most of the population of those countries don't even consider going camping as a vacation, so those are not common at all.
Luckily, the web exists and we all have a smartphone on the road that allows us to use some apps that make our lives much easier.
For us, iOverlander is the one and only bible for overlanders, and it is free. Go download the App, check it out a bit, read a couple reviews and you'll quickly know if boondocking is for you… or not 😉
6. Be Disconnected
If the idea of seeing "no service" on the top left of your phone screen makes you freak out and feel anxious, I recommend you cross Baja California peninsula off your travel destinations list.
So close to California and the US but so far from every type of communication at the same time, Baja is a total paradise for #vanlifers. However, if you're Insta or Youtube famous and you can't live without updating your followers every now and then you should reconsider.
Or, if you are actually working remotely to finance your trip and pay your next fuel tank, you will need to be careful with your planning to make sure you have access to a decent wifi or network once in a while. It is easy to have your phone unlocked and buy a SIM card from the country you are traveling to, but this does not guarantee you'll have proper service all the time.
You will need to plan your itinerary according to the major cities and urban region where you know you can connect yourself and work on whatever project you have. You also need to take into consideration the different time zones that can make working on the road more complex.
I once had a phone interview for a radio station at 5 am and it was not very pleasant. We have had a lot of issues with the cell phone reception in Baja California, in Oaxaca & Chiapas states in Mexico and in El Péten department in Guatemala, so you might want to remember those areas before losing contact with the connected world.
For us, it wasn't an issue since we are not working on the road and we didn't need to contact anybody while on this trip apart from our friends & family once in a while, but it could be an issue for someone who has obligations while living the vanlife.
If you need a connection all the time, you should consider buying a portable modem like SkyRoam or even an antenna booster to facilitate your connectibility.
I have to admit that GPS is also of great help while traveling near big cities or remote areas to avoid being lost for hours on an uncompleted highway near Guadalajara, Mexico like we did.
7. Homesickness
If you're the type of person who misses your cat and bed after a week vacation in an all-inclusive resort in Cuba, you might not be made for #vanlife.
It has been 10 months on the road now and needless to say that our friends and family haven't come to visit much, unfortunately. You can't expect that everyone around you will change their vacation plans just to come meet you on the road. If you do expect that, you have strong chances of being highly disappointed.
The world continues to turn even though your world has changed totally. You can't expect that your friends & family will think like you and quit everything to live like you. You have decided to leave so you are the one that should come back to see your loved ones since you decided to opt for this different lifestyle. They didn't ask for anything!
Then, even if your parents want to come to visit for a bit, you'll see that it is more complicated than you think. While #vanlifing you have no clue on where you will be in a week, so imagine in a month or more…
It is extremely difficult to make any plans with someone who goes with the flow and has no obligations. It can be frustrating for someone who only has 2 weeks off a year and wants to plan something serious. Every time my mom tries to ask me where I'll be for next Christmas and starts shopping for planes tickets, I have a panic attack.
Living on board your van means having the liberty to go where you want to go and leave when you want to leave. You don't want to have any commitments.
You better start your speed dating activities right now to find your best road trip partner because you might find it very long if you aren't in good company. We have bumped into a couple questionable duos while on the road and they all ended up in drama. Trust me, drama is the last thing you want on your lifetime road trip.
8. Varying Driving Conditions
Parking your car on your hometown main street to go do your shopping on a Saturday morning stresses you more than university finals? Imagine yourself driving a cargo van on a 10 lane highway coming into Los Angeles or rush hour in Mexico city with its numerous laws on when and how to drive in the city and incomprehensible road signs.
To this wonderful mix, add friendly cops that try to extort you a couple pesos on every street corner while pulling you over for no legitimate reason. On top of that, imagine yourself driving on a highway that is worse than your countries dirt roads.
Driving in Mexico, Belize, Guatemala or even Vancouver or L.A. is not for everybody and you have to be aware of that before hitting the road. Our brakes ran out while leaving Sequoia National Park in California and we thought we would die a couple times in Guatemala. So if the morning traffic jams in your neighborhood make you panic, you might want to take your backpack and running shoes.
If you're really considering life on the road, read more about the pros and cons of van life in Outbound Living's Introduction Chapter of their van life guide.
To join our crazy adventure, you can follow us on Instagram @d_bus_life, Facebook @DBUSLIFE, and SUBSCRIBE to our YouTube Channel & join our community!