Volkswagen are the latest in a wide range of companies to go electric with their upgraded Bulli van, aptly named the T6.1 Multivan. While we've seen electric Volkswagen vans in in the past such as the eCrafter and the eTransporter, these are creations by third party companies and not Volkswagen themselves.
Although the big news of 2018 was that the I.D. Buzz e-Bulli camper would be released in 2022, with an impressive range of 373 miles, that still remains a long way off, so VW have gone for a mid-range update to their much beloved van, the T6.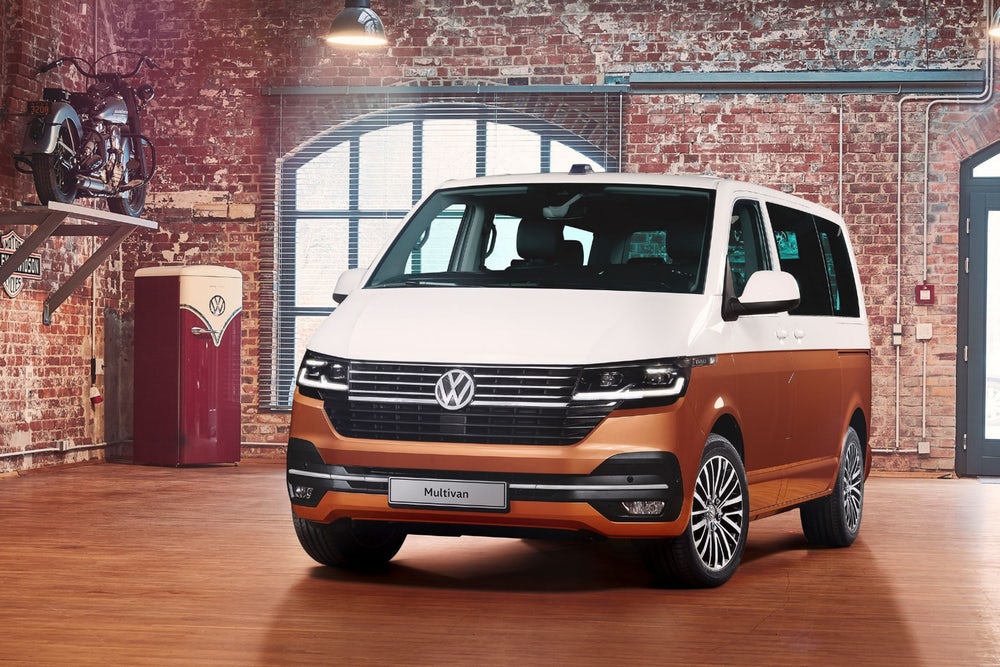 The T6.1 is the first to feature a brand new all-electric powertrain, and although there are only minimal changes to the van's exterior styling, there's a lot going on under the hood.
The van's electromechanical power steering allows for a whole host of new assistance systems, everything from Crosswind Assist to Lane-Keeping Assist, and even Rear Traffic Alerts to prevent accidents when reversing. A Park Assist function simplifies parking and reversing into spaces, requiring only braking and acceleration control from the user; similarly the Trailer Assist option aids in towing trailers up to a weight of 2.5T, and helps with tricky manoeuvres like reversing.
With these systems, Volkswagen wanted to set new standards in vehicle safety, and launch one of their most iconic vans straight into the 21st century.
The T6.1's 2.0L TDI engine is available in a range of horsepowers of between 88bhp and 196bhp, or it can be turned into a zero-emissions vehicle with a driving range of 400 miles with their higher capacity 77.6kWh capacity battery; this range is almost halved with the lower capacity 38.8kWh battery. Either one can be quick-charged to 80% capacity in just 49 minutes, meaning you're only a short coffee break away from continuing whatever epic road trip journey you find yourself on.
This front wheel drive van can be transformed into an all-wheel drive with Volkswagen's 4MOTION technology, and a dual clutch gearbox is also an option.
The entire Bulli van has been given a sharper exterior look, with a double chrome crossbar and sporty LED headlights which blend flawlessly with the van's widened face.
Inside, the interior has been completely modernised into what VW have dubbed the "digital cockpit", crammed full of just about every kind of tech you could want for in a van.
The new dashboard panel features a 10.25" infotainment system that enables the use of internet radio and streaming services with its eSIM card integration port.
This opens the door for a whole range of savvy tech features, like smartphone app integration which can be controlled from the built-in steering wheel controls. Simply use the buttons to bring up your phone book, your media library or your maps, or forgo the hand controls altogether and use the van's state-of-the-art voice control system. This can be activated by saying, "Hey Bulli", followed by a command such as, "I would like to go to the Gendarmenmarkt in Berlin".
Just when you thought technology couldn't get any smarter, the infotainment system even features an integrated eCall function, which automatically alerts the emergency services to your location and establishes a voice connection in the event of an accident.
The system's high contrast graphic display can be personalised to the user, with a customised home screen just like you would have on your smartphone.
The T6.1 also comes with wireless charging, automatic iPhone connection, Bluetooth and Apple CarPlay. It's got a 230V electric socket below the driver's seat in the cab for working on the go, and a lockable compartment beneath the passenger bench seat for storing all your valuables.
There are no photos of the campervan conversion as yet, but the T6.1 is a modernised version of a classic van that will no doubt grace highways and shorelines around the world, just as its many iconic predecessors have done before it.
If you're itching to get your hands on the VW T6.1 Multivan, it won't be available until Fall 2019, and the price is being kept under wraps for now. The release of new standard features of the upgraded California and Caravelle vans are also eagerly anticipated by VW enthusiasts.
Source and image credits: Volkswagen