Just because your home is on the small side, you shouldn't shy away from the joys of having friends over, and throwing parties just because you can!
When I was growing up, in the glorious English countryside, my Mum – who happens to be from the good ol' US of A, was the queen of parties. With a prowess for being able to make a party out of any occasion, and in absolutely any location from a garden shed to a horse trailer.
So, without further ado, here are my five top tips — stolen from my Mum — for entertaining in tiny spaces!
1. Use Your Space Wisely
Our home, a VW Adventurewagen is a rather modest 7.5sq meters, but when we're having people over, David and I can sit in the front seats, three people can sit on the couch, and we can throw some cushions on the floor to make room for a couple of extra people!
So, even when the weather is miserable, we can fit five guests over for an impromptu evening of card games and tea.
2. Food With Minimal Prep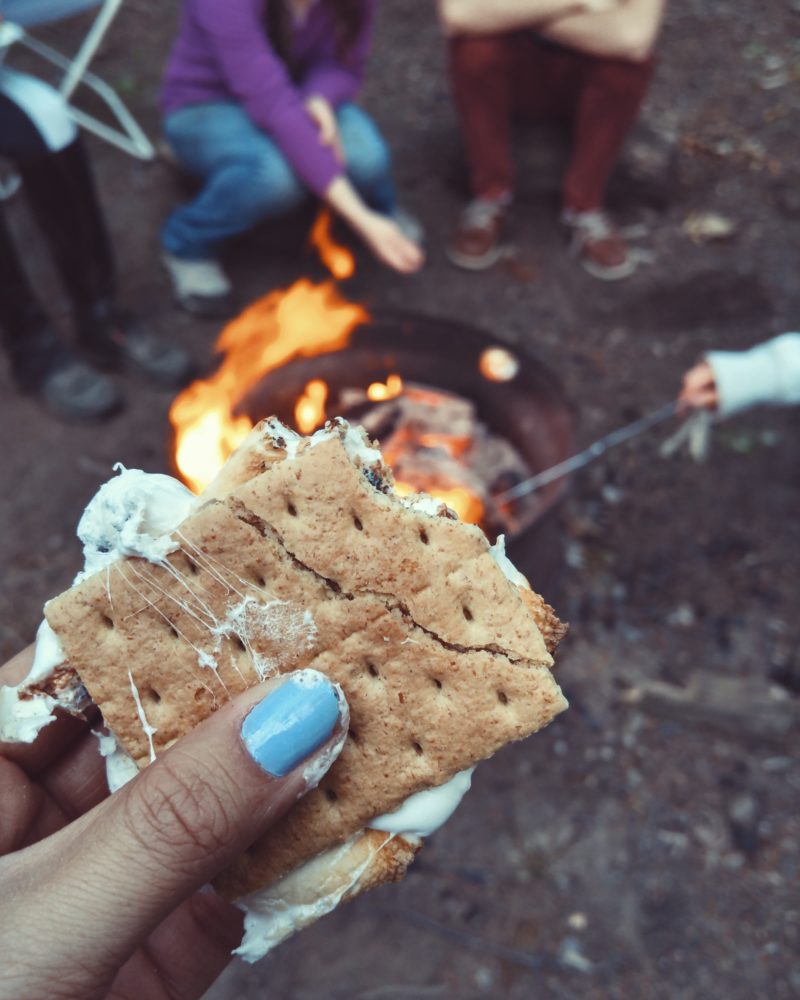 I love making food on sticks when we're having people over to the bus; it's different to most dinner parties, it makes me feel as though I'm back in the 90's and it means that there's no cleaning up!
But just because you're serving food on sticks, it doesn't mean that you can't go all out, heck – the amount of three course stuck-on-stick dinner parties I've had in my life is almost uncountable!
In case you're struggling to think of what food is easy to make in a tiny kitchen and stab with a stick – here's a sample menu for you to borrow:
Starter:
Caprese on a Stick – tomato, basil, and mozzarella.
Main Course:
Triple Slider Skewer – Three mini burgers, one Japanese, one American, and one Greek burger – if you're up for the challenge!
Dessert:
Make your own Smores – Buy a couple of bags of marshmallows, a few bars of chocolate, and some graham crackers and let people go for it. It might get messy but it's outside so who cares!
3. Utilize The Great Outdoors
There's no denying that entertaining in tiny spaces is way more fun when you can make the most of your unofficial garden area too.
If the weather is dry, and you're parked up somewhere with a bit of greenery – throw some cushions and blankets down. Or better yet, park up by the lake and tell people to bring their swimming gear!
Start up a campfire, and make a tray of kebab skewers and smores in advance so that they're ready to go, feeding people tasty treats that remind them of their childhood is a sure fire way to get the party started.
But remember – a campfire party isn't a campfire party without some great music, funny stories, and silly party games. At one of our Easter parties around four years ago, we had egg and spoon races that turned out to be hilarious – so much so that everyone in attendance still talks about it!
Follow your inner child and have fun, before you know it, everyone will be asking when the next party is.
4. Be Whimsical
The tiny living lifestyle is still pretty niche – we're living a pretty unique lifestyle; so let your party be as quirky as your home.
If you're struggling with excuses to throw a party, I always find that picking a theme helps me to come up with some great ideas. For example, the "Hagrid's Cabin" party.
Put on a Harry Potter movie, make some pumpkin pasties, a jug of butterbeer, and if you're especially cool – tell everyone to dress in their wizards robes!
5. Embrace The Fun
The ultimate strategy for throwing a memorable party in a brand new tiny residence – is to book some fun activities such as a bouncy castle or mechanical rodeo bull!
It's a great way to get your friends and family into the fun and adventure of your new lifestyle.
But don't worry, if there aren't any similar activities near you, playing silly games such as the Write, Pass, Draw game will work a treat!
What is Write, Pass Draw?
You all sit in a circle, you each take a piece of paper and pen, now each of you writes a sentence, then you pass your papers to the person on your right.
They read the sentence, fold the paper, and draw out what your sentence said, and so the loop continues until your paper comes around the circle and back to you – usually, hilarity will ensue!
BONUS TIP – 6. Throw a BYO Potluck
We've all heard the phrase "Bring your own bottle," but how about taking it up a notch and throwing a potluck where everyone brings something – not necessarily all food.
Put some people in charge of tasty snacks, and other people in charge of tables, chairs, and even crockery.
Making the party a real community effort brings people together; we used to do this every single month, with each of our friends taking it in turns to host!
Throw a Party Already!
I hope that you'll utilize one or two of these tiny-party tips for your next get-together, and if you do – make sure to invite me, because I already know that it's going to be one heck of a shindig!
Hugs and cookies,
Nadia.