When converting your van there's no doubt you'll want to include as many mod cons and home comforts as possible to make your tiny home really feel like your own. One of the most central elements of any van conversion is a kitchen where you'll be cooking, making coffee and washing. Your kitchen can be small and galley-sized or a huge wraparound affair giving you unlimited space to cook, but no matter what the size the most essential part has to be the sink.
That's why we've compiled a list of the best compact sink options for your van, as well as everything you'll need in your camper van sink kit for an easy install.
Introduction
The size of your sink will largely depend on the size and available space in your van's kitchen. If you are converting something small you'll presumably only have space for a galley-style kitchen with a compact sink, however if you're converting a bus or an overlander you'll probably have more space to dedicate to your kitchen and you could be looking at something like a double sink.
There are all sorts of space-saving options available too, like foldable faucets or integrated sink and stove units, as well as low-tech options like a camper van foot pump sink, so the best thing to do is figure out the dimensions of your kitchen first.
Here's a rundown of the different options you have when installing a sink in your van conversion and the best product choices for each category.
Combination sink and stove
A sink and stove combo is a great way to save space in your van conversion if you have limited countertop area, while squeezing two important features into one.
One of the best options if you're looking to save on space in your camper is the integrated sink and two burner stove from Dometic. As well as a round sink basin that's big enough for washing dishes you'll also get a large and small burner attached and a tinted glass lid that can be lowered to create extra prep space when not in use. It measures 27" long by 16" wide and is compatible with the Dometic AC542 Fold-Down galley faucet.
Standard sink
Sometimes it's best to keep things simple, and all you really need in your camper van is a basic sink that does the job. Although most RV sinks are around the same size, the choice of styling is really up to you and what fits your interior decor.
For a quality choice that will last you in your van for years to come, look no further than the round stainless steel sink from Dometic. It features an integrated foldable faucet and a dark glass lid that allows you to create extra countertop space when not in use.
Heng's offers van conversion essentials on a budget and their single stainless steel sink is a no-frills option with nickel chrome and stainless steel construction. It measures 13" x 15" with a 5" deep bowl and a self-rimming edge.
If you're looking for a more stylish option in your van conversion then this composite bar sink from RecPro might take your fancy with a black granite effect that will complement any interior. It measures a standard 13" x 15" and is super easy to install.
Double sink
If you've got a little more room to play with in your camper then you might want to think about building a larger kitchen area, and to go with that a larger sink. A double sink can be really handy for multitasking or just to add a touch of style to your interior, although you'll have to build your van conversion sink cabinet to accommodate the extra length.
The Better Bath RV double sink by Lippert is a lightweight and stylish option made of durable stainless steel-colored plastic. It has three faucet holes and measures 59" long by 36" wide, making it an ideal sink for larger kitchens.
If you want something a little more hard-wearing then this double stainless steel sink from RecPro makes an excellent option for a camper. It's 7" deep by 27" long and is self-rimming for easy install.
Bathroom
If you're looking for a similar setup but in your van's bathroom then we've picked out a couple of great options for small bathroom-friendly sinks.
A superb budget option for any camper van bathroom, this small stainless steel sink from Heng's measures just 10" in diameter and is 5" deep, making it a perfect size for even the smallest wet room.
This portable camping sink from SereneLife is an excellent choice for any camper as not only can it be used indoors or out but it's also an all-in-one towel holder, soap dispenser and tap with basin. What's really handy about it is that it has its own 5 gallon water container so it can be used separately to your van's built-in water source.
Faucets
Arguably the most essential component of any camper van sink is a faucet, for which there are many options. Aside from using a standard house faucet or something decorative, you could be looking at a manual hand pump faucet or a 12V electric one to deliver water from your on-board tank to your sink. Additionally a foldable faucet is a great way to save space, particularly if you plan on installing a drop-in sink insert or a glass lid to give you extra counter space.
Sometimes a basic hand pump faucet is all you need to get water from your tank into your sink, so this cold water faucet from Valterra is a great budget choice. Simply rotate the handle back and forth to pump water, and a prime lock holds the water in position ready for immediate release.
If you want something a little more modern then a 12V electric faucet like this one from ANTARESWORLD can be a great way to easily connect your camper van sink to your tank. It has a built-in 3A microswitch and its two wires simply connect to a 12V submersible pump as well as your van's leisure battery to provide instant running water. It delivers 1.5 bars of pressure and can handle temperatures up to 80ºC (176ºF).
Another great budget option for a van conversion is this low-profile three-way hand pump faucet from Leisure Components. Its low profile design folds down to save space when not in use which makes it especially useful if you're planning a drop-in countertop sink insert. It can be connected to either city water, an on-board tank or an electric pump too, giving you full flexibility over your water source.
A great space-saving option if you're looking for a simple, basic faucet is this foldable RV faucet from Decdeal. It has a single handle, rotates 360º and is wall-mountable, as well as folding away flat when not in use.
Water Pumps
The other main component in any camper van sink system is of course a pump. This can be high tech and electrically-powered for convenience, or manually powered if you want to avoid the hassle of wiring and electrical components that could potentially break down later on.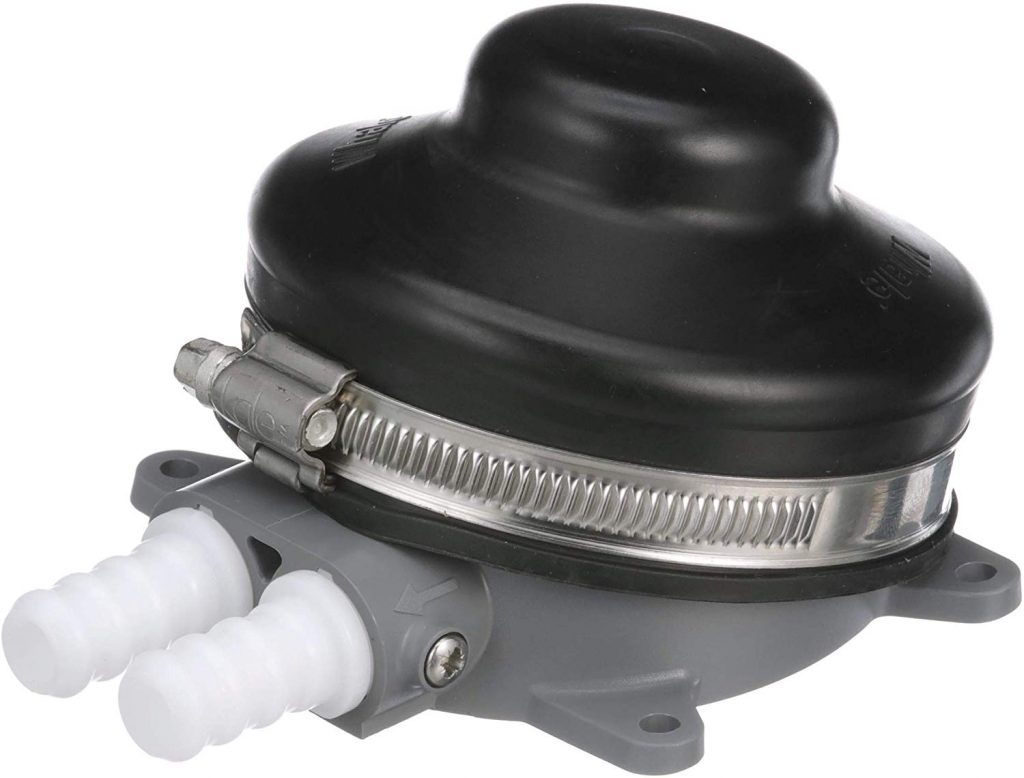 Whale is a quality brand when it comes to marine supplies, and their foot-operated galley pump is an excellent product with an angled top design that is capable of pumping 2.2 gallons per minute at max output.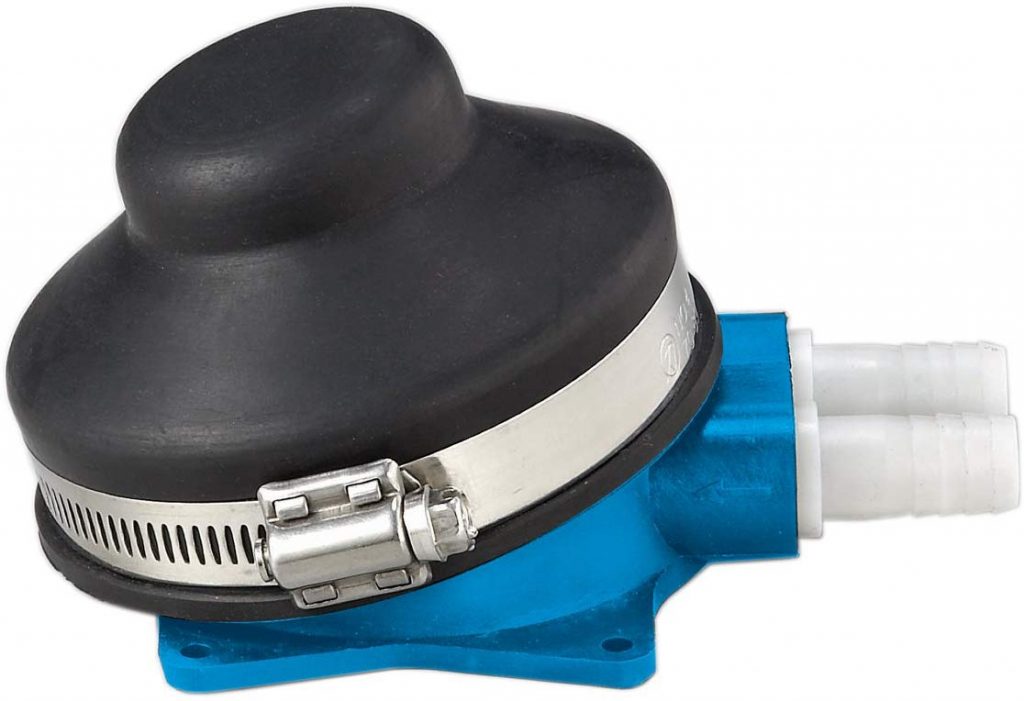 A slightly cheaper foot pump offering comes from Pactrade, whose baby foot pump is self-priming, compact for use in small spaces and delivers 2.1 gallons per minute at max output.
A cheap and easy way to get an electrically-powered plumbing system into your van is with this Bayite 12V fresh water pump, a solid economy option capable of pumping up to 1.2 gallons per minute. It consumes 5 amps of power, is self-priming and can pump water at 80 psi.
Shurflo offers quality products when it comes to all things plumbing, and their 12V fresh water pump is a solid option for any van conversion that will last for years. It delivers 45 psi of pressure and can pump up to 3.5 gallons per minute.
Conclusion
So there you have it, a run down of the best camper van sink options and everything you need to know when deciding on a sink and water system for your van conversion. Once you've decided on a sink, a faucet and whether you want a manual or electrically pumped system, all you need to do is add in a drain, plumbing and some water tanks and your camper van kitchen is good to go. It all comes down to size, budget and preference, so we hope this article has helped you narrow down your choices.