When it comes to living in a van, a little bit of home comfort can go a long way. Just like picking the right camper van mattress, your choice of bedding can have a huge impact on your comfort and sleep quality.
It all comes down to two things: climate and storage. Traveling through warm climates you'll want lightweight sheets to keep you cool at night, while for colder climates you'll want to layer up with the warmest materials available. But if you don't have a fixed bed you'll need to balance the bulk with your available storage space for when the covers aren't on the bed. And even if you do have a fixed bed, you may find keeping a few extra blankets around for those chilly nights will vastly improve your sleep quality.
Materials
Wool has the advantage of being naturally antibacterial as it draws moisture away from the skin. It's also good at insulating, durable and compact to fold away, but can be itchy and expensive.
Cotton is a lightweight, breathable fabric but it does not insulate well and absorbs moisture.
Linen is a natural, breathable option, good for warm climates and durable, although it wrinkles easily and can be expensive.
Feather or down is a very warm option which is only really good for winter or cold climates or else you'll find you wake up sweating in the night. Aside from this the only downside is it's very bulky and hard to stow away.
Synthetic materials, usually polyester, are a durable, comfortable and inexpensive choice as well as being wrinkle-resistant, quick-drying and fade-resistant as polyester is hydrophobic.
Fleece is a very warm, light, soft material that is absolutely great for layering underneath other blankets against your body for warmth. It too is made of polyester often spun from recycled plastic and is compact to fold away or looks great to leave out as a decorative touch.
Bamboo (viscose) is a natural, lightweight, breathable fabric with antimicrobial properties that is becoming increasingly common in bedding.
Thickness
Thickness is a big factor in selecting a bed cover, especially for a comforter or duvet. This thickness is measured in togs, so for Summer you'll want to use something like a 2.5 to 4.5 tog; for Spring, Autumn and general usage a 9 to 10 tog will suffice; for Winter you'll want to go thick with a 12 to 13.5 tog.
Storage
Where to store your bedding can be an important issue to consider if your sleeping area transforms into a daytime living area, but also if you live in your van year-round and need somewhere to store your winter bedding.
You may want to dedicate a cupboard, drawer or shelf to your extra bedding, and you can maximize space by vacuum packing or simply folding the blankets up and storing them beneath the mattress. You may want to wrap your bedding up in a plastic bag or dedicated bedding bag to prevent damp from getting in, which is especially frustrating when your clean sheets end up smelling of mildew.
Another idea is to simply use the blankets to add decoration to your bed or sofa area by folding them up neatly when not needed then laying them over your bed when it gets cold. Layering multiple covers together will increase their insulating properties and protect you from cold, uncomfortable nights, and this way you'll have all your options covered if you're traveling through many different climates.
Sleeping bags are also a simple way to pack away your bedding in the morning by rolling them up and stashing them away, making them great for occasional vanlifers and weekend warriors who want to make a quick Friday getaway.
Top picks
Comforters
Comforters (or duvets) are an all-round good option for bedding and suitable for most climates dependant on their thickness. They can be covered with sheets or a duvet cover which makes them more hygienic as you simply need to change and wash the covers every few weeks.
This ultra-soft microfiber comforter is made for all seasons use, making it great for living in a van! It has eight built-in corner and side loops to secure the cover down and has the feel of a down-stuffed comforter with a reversible color design.
This five piece comforter set is also made for all season use with a cozy brushed microfiber comforter that comes with all the sheets and pillowcases to make a bed. It's easy to wash, hypoallergenic and dust mite resistant.
Sheets
You may want to cover your comforter or duvet with some sheets to make it easier to clean regularly.
Camping blankets
If you're traveling to colder climates and want to wrap up warm or you simply don't want the hassle of making up a bed with sheets then a camping blanket is a warm, no-nonsense choice for van bedding. They're usually washable and stuffed with a well-insulating material such as down. It can even be layered on top of your existing bedding for that extra layer of warmth.
A camping blanket is a versatile option that can be taken from your van to the trail, as well as being very warm and well-insulated. This down camping blanket from Horizon Hound is ultra light, waterproof, strong, washable and comes with its own storage sack.
Sleeping bags
Perfect for weekend warriors or those traveling to particularly cold climates, a sleeping bag is a simple choice of bedding but one that could become essential in subzero temperatures. Make sure to check the rating so you know the one you're purchasing will be suitable and keep you toasty on even the coldest of nights.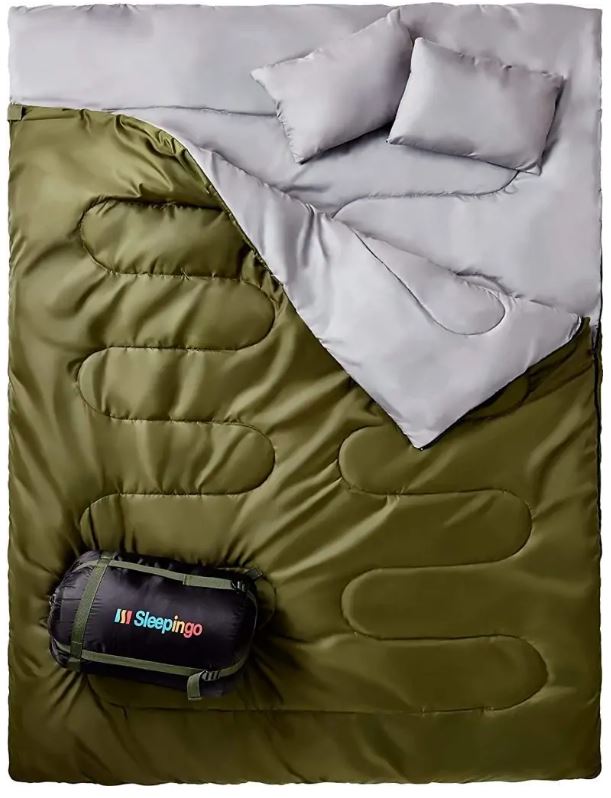 Sharing body heat is essential for survival on cold nights, but it's also just nice to cozy up. At 7' long and 5' wide this polyester and cotton-lined sleeping bag is big enough for two and rated down to 32°F (0°C). It also unzips into two separate bags in case you want to sleep apart.
This single person sleeping bag can accommodate anyone up to 6'2" long and is rated down to 0°F (-18°C) for those seriously chilly nights in bed. A semi-sculpted hood tightens with a drawstring to seal in heat, while the bottom unzips for extra ventilation on warmer nights.
Blankets
Blankets are great for layering and come in all sizes and materials. They can be added on top of a comforter or layered with a few together and they also work well as outdoor rugs. Wool is a particularly warm and hard-wearing fabric choice but cotton and synthetic are also good and a bit cooler material.
Pendleton is one of the most recognized brands across the States. Their blankets are pricey but of superior quality and very warm. They were originally used by shepherds sheltering against the harsh elements in the Pacific Northwest which makes them good enough for van dwellers looking to keep warm.
This blanket is made from 80% premium virgin Merino wool, a strong choice of wool for camping thanks to its antibacterial and insulating properties. It's also great value and will last you for years to come.
Fleece
A fleece blanket should be an essential in everyone's bedding cupboard. Warm enough for cold winter nights but also light enough to be used as a summer blanket and easily stowable, they're particularly good for layering underneath other bedding as the fleece will help to retain body heat.
This microfiber fleece blanket is big, warm, soft and available in every color you could want. It's also a steal at just over $20.
If you're looking for something extra warm then a Sherpa fleece could be just what you need. These double-sided blankets are the warmest thing ever, as well as being wonderfully decorative, the only downside is they don't store very well due to their enormous bulk.
Throws
If warmth isn't your concern and you want something purely decorative to finish off your van's interior with a touch of style then you need a throw. Drape it over your bed or seats, use it as a yoga rug or roll it up into a handy beach blanket- every van needs a throw!
For that quintessential traveler look you need one of these hand-woven Mexican blankets. They're hard-wearing, they're versatile and they look gorgeous in every photo you take.
Pillows
Like choosing a camper van mattress, pillows can have a big impact on your sleep quality at night. The firmness, material and height are all personal choices but very important ones based on what kind of sleeper you are.
Synthetic pillows, often made of polyester, are a cheap, breathable and non-allergic option, and possibly the most common type of pillow.
Feather pillows are a soft, luxurious option offering mouldable support for the head and neck, though unfortunately not cruelty-free.
Wool is an excellent choice for pillow stuffing as it is naturally antibacterial and damp resistant, as well as being organic, eco-friendly and surprisingly machine washable. The only downside is it comes with a hefty price tag.
Buckwheat is a somewhat unconventional pillow filling but it has the distinct advantage of being adjustable by removing some of the buckwheat hulls to achieve the correct height. This enables correct alignment of the head and neck for optimum comfort and the hulls allow airflow to pass through keeping the head cool.
Memory foam offers firm support that molds to the exact shape of the head and neck, although some people may find them too high. Some may be infused with temperature-regulating gel to help with a cool night's sleep.
Gel pillows offer excellent neck support and a cooling effect throughout the night. They also have the advantage of being naturally molded, dust mite and mildew resistant, as well as being allergen and chemical free.
Latex pillows are firm and supportive like gel or memory foam, but with the added bonus of being natural and antimicrobial, made from the tropical rubber tree.
Inflatable pillows are a budget choice and really not a good option for any kind of long term use, however they are easily stowable and great for spontaneous weekend camping adventures.
So there we have it, a complete breakdown of all the different camper van bedding options to help you decide which is right for you. A good night's sleep is essential, especially out on the road, and the right bedding is the key to a well-rested traveler who's ready to face the day ahead.