When converting your van, arguably one of the most important parts is deciding on a bed design and a mattress- after all, when you're not out exploring, your bed is probably where you'll spend most of your time. But with so many different types and things to consider, it can be hard to know where to start.
Should you opt for a fixed bed, an extendable bed or one that converts into a table with bench seats? This decision alone will greatly influence what type of mattress you should be looking at. Will you be traveling to primarily hot or cold climates? Your choice of mattress can either keep you warm or cool at night depending on your choice. Most importantly, the size and shape of your van and the layout will largely dictate what type and style of mattress you need.
So here's our guide explaining the different types of mattresses, their benefits, and their drawbacks.
Van Mattress types:
Memory foam
Memory foam mattresses are a popular choice for van conversions: they're comfortable, they're lightweight and they disperse weight and heat to give you a comfortable sleep even on a warm night. They're also easily cut into shape making them a great choice for smaller vans.
Gel-infused foam
Gel-infused foam is much like memory foam although a little stiffer and more breathable. Gel foam mattresses are equally good at dispersing heat and can also be cut to size if necessary.
Innerspring
An innerspring mattress is what you'd typically find in a house; these cannot be cut down, and so will only fit in certain vans dependant on their width and layout. These mattresses are readily available, cheap to buy and retain heat well, however they can be much heavier than other types of mattress so if weight is a concern this may not be the right type for your conversion.
Latex mattress
Latex mattresses can be a lifesaver in a van if your sleeping partner likes to fidget, as the soft latex material reduces motion disturbance during the night. Latex is also more durable than foam, and often made of entirely natural materials if sustainability is a concern.
Futon / cushions
Although a folding bed is easily the lightest and most compact option, they can also generally be quite uncomfortable. These types of mattress will be necessary if you plan to have a bed that folds into a dining table with seats, or if you plan to build a bed that extends from a sofa into a double bed. These cushions can be wool, cotton or foam-filled and most likely will need to be custom made to fit your van.
Air mattress
Although we wouldn't really recommend an air mattress for any long term travelling they are good in terms of space saving and weight. They can be inflated to create a comfortable bed for the night and deflated and stowed away the next day, although they provide very little in the way of insulation and can easily be punctured.
Things to consider:
Thickness
This is an important one to consider. A thicker mattress will insulate better against the cold and provide a more comfortable night's sleep. A thinner mattress won't protect you from rising cold so well, but it will fold in half easily should you need access to underneath the bed. The height of your mattress can also be an issue if your van roof is low or your bed is high, as every extra inch will put you closer to the ceiling.
Size
Drafting up a plan of your van's layout is a crucial step in the conversion process; make sure you put pen to paper before you start putting any nails or screws into wood, and use this as your opportunity to decide whether you want your van bed to be widthways or lengthways.
Having a lengthways bed can seriously eat into your living space in a small van, however not only will you not have to sleep with your feet poking out of the window but you'll be able to fit in a standard size mattress with few issues. If you choose to have your bed widthways, which is quite common in camper vans, you may be looking at either a short mattress specially designed for RVs or a custom built one.
RELATED: Check out of Van Life Guide for bed layout options
Budget
There is no right or wrong answer when it comes to buying a mattress for your camper; after all, comfort and a good night's rest are both important, personal things. You can spend $$$ on a premium, custom-sized luxury mattress or you can craft one yourself out of foam- whatever's going to help you sleep at night. But remember, even a cheap mattress can be improved with a decent mattress topper and save you a few extra bucks.
How to cut your own mattress:
Cutting your own mattress is a simple process requiring only a few basic tools. You can use this technique to cut out a custom sized mattress or even a set of cushions with covers that convert into a bed.
Latex or memory foam are both good choices of material as they can be easily cut and are available in different levels of firmness. To cut the foam down to size all you'll need is a marker, a measuring tape, a long ruler and a knife; an electric bread knife will give you a clean, easy cut but a sharp Stanley knife or serrated bread knife will also do the trick. Be aware that some mattresses may come with a layer of fiberglass insulation that is used as a fire retardant, and cutting through this will produce tiny fibers that can irritate your skin or be inhaled. Make sure to remove this cover before cutting the mattress.
If your foam has a cover or outer layer then first remove it.
Measure out the size of your foam using a measuring tape and mark where you need to cut with a marker pen. Trace between the marks with a ruler to make sure your lines are straight.
Cut along the lines using a knife slowly and carefully making sure not to tear the edges. A longer knife will give you cleaner edges.
(Optional) Cover your mattress with fabric to prevent any damage to the foam. This is a good opportunity to choose a custom fabric that will complement the aesthetic of your van.
Our top van mattress picks
Memory foam
The Live and Sleep Cool Memory foam mattress is an excellent choice if you're looking for the comforts of memory foam in your camper. It's 10" thick and built from layers of air-flow infused visco memory foam and a thick layer of advanced high density foam support as a base. This provides a cooling effect for the sleeper and the medium firm mattress is available as a short queen for RVs and includes a free pillow. It weighs in at a fairly light 54.9lbs.
This Memory Foam mattress from Serenia Sleep was designed with RVs in mind as it's available in both a Short Queen and a Short Full size. It uses 2" of 2.5lb density memory foam and a 6" supportive foam base to provide a comfortable sleep for the user, and these materials work well to disperse both weight and heat. It's a little thinner than the Live and Sleep mattress at 8" and is also a medium firm, but weighs a fraction less at 52lbs.
Gel-infused foam
Parklane's gel-infused memory foam mattresses are crafted specifically for campers and RVs, as they offer a range of different sizes from RV Twin to RV King. We've chosen their Adventurer mattress for its medium firmness and cooling abilities, and its construction formed of 6" high-density foam, 0.5" of ultra HD base foams and a 1.5" of gel topper. It weighs a rather modest 50lbs and is 8" thick.
The PlushBeds Cool Bliss Gel Memory Foam mattress is certainly one of the higher-end offerings on this list, but if money's no object when it comes to a good night's sleep then this mattress is well worth paying for. Its 3" of 4lb soft gel memory foam, 2" of 100% natural latex and 7.5" of convoluted 2.5lb high-density foam create a medium-soft mattress which is purportedly 30% cooler than a traditional memory foam mattress. It does weight a hefty 110lbs though, making it the heaviest mattress on this list, so if weight is an issue with your van conversion you might want to look at something a little lighter.
Innerspring
Another of Parklane's mattresses, this time The Explorer innersprung mattress which fits anything from a Twin up to an RV King, including a variety of short mattresses to fit a widthways bed. The mattress is a medium-soft, crafted of soft high density foam supported by 9" pocketed coil innersprings with reinforced lumbar support. It weighs 58lbs and would make a perfectly comfortable bed if you're not after anything fancy.
This Sinus spring RV/Camper/Trailer/Truck mattress may be a little thin at only 6", but it is a great budget option and weighs just 48lbs making it one of the lightest ones on this list. The thinness of this mattress could also be an advantage if you need something that can be folded or moved to access underneath your bed, however Zinus does also offer a thicker 10" mattress. This is a firm mattress that is crafted of green tea foam and heavy duty springs, and the material is infused with green tea extract and castor seed oil to naturally retard oil and bacteria.
Latex
If you're looking for ultimate comfort and a peaceful night's sleep then this Eco Terra Natural Latex Hybrid mattress could be a good option with its 11" thick construction and 3" top layer of natural talaylay latex. It contains individually fabric-encased coil springs but does weigh in at a rather heavy 84lbs.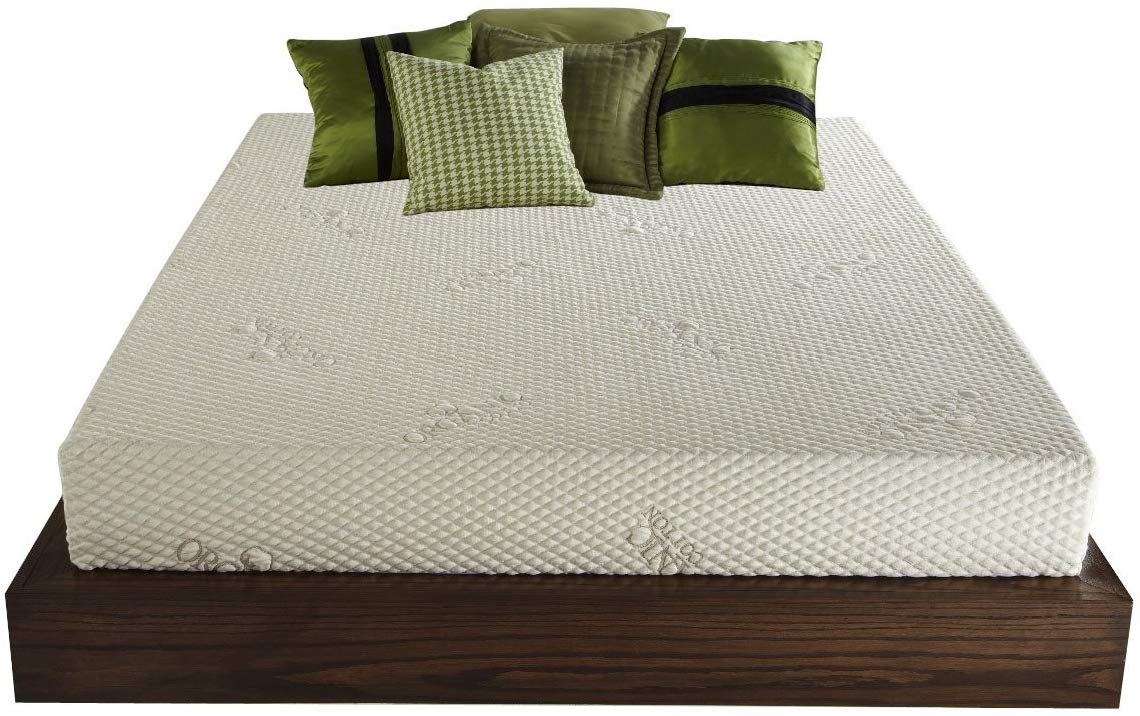 Another offering from PlushBeds created with campers in mind, their Natural Latex RV mattress is made from 100% natural latex with a signature PlushFoam core. It's 8" thick, medium firm and weighs just 65lbs, and can be provided as a Short Queen specifically designed for RVs.
Cushions / futon
Although a bed constructed from cushions is often a personal choice tailored to the size and layout of your RV, a good basic choice of mattress to build your bed around would be the Thick Folding mattress from Milliard. It's made from 6" thick memory foam to provide a ventilated air flow, which consists of 4 ½" of polyurethane foam and 1 ½" of soft memory foam. It weighs just 35lbs and folds in three to stow away or to create a small sofa.
Air mattress
If you're looking for a super comfortable air mattress for longer term use then the Dream Series air mattress by SoundAsleep is a great option. Although air mattresses shouldn't generally be used for more than a few weeks or a month this 19" high air bed would certainly provide a more than comfortable night's sleep in your van. It's built with ComfortCoil internal air coil technology and an eco-friendly PVC nylon construction. The handy thing about this air mattress is that it comes with a built-in internal high capacity pump for self-inflation, and its SureGrip bottom will make sure you don't slide around during the night. It also weighs a van-friendly 19lbs and is easily stowable.
The OlarHike air mattress is a good budget option for a minivan or small campervan that will provide a reasonably comfortable short term bed solution. It's 9" thick and comes with both a 120V and a 12V power adapter for inflation, and is designed for camping and camper vans with an anti-skid base. It weighs just 6lbs which makes it easily portable, although perhaps a little thin for long-term sleeping.
Conclusion
Just like with everything to do with a van conversion, selecting the right mattress is a choice that's personal to you and your needs. There are different firmnesses, different technologies for support and different materials that can affect how well you sleep. There's also the practical considerations like weight, size and portability, and whether you need something permanent or temporary. Depending on the layout of your van you can buy a mattress straight off the shelf that fits, or you can custom build one that's tailored exactly to your camper.
There's no one size that fits all, but one thing we can all agree on is there's no second best for a good night's rest.